Fact Information
Duration

19 Days
Destination

Nepal
Difficulty

Easy
Accommodation

Hotel & Lodges
Activity

Cycling Trip
Transportation

Tourist Bus, Plane,Jeep and cycle
Meals

BLD (Breakfast, Lunch and Dinner)
Max Person

15
Min Person

2
Maximum Altitude

4,660m (15,288 ft)
Best season

Summer, Autumn & Spring
About Trip
"Ultimate fun mountain cycling tour, from plains to highlands."
Upper Mustang is a hidden gem in Nepal where tourists can enjoy unparalleled beauty of nature and witness the unique culture and religion of the Mustang people. Lo-Manthang is very popular with its whitewashed walls and flat-roofed mud houses. In the past, Lo-Manthang was a separate kingdom ruled by a local king in Mustang. It lies north of the Trans-Himalaya border of China and Dolpo. Until 1992, it was forbidden to foreigners, and it is still a restricted area of Nepal that requires special permits for foreign tourists. The permit cost is USD 500 for 10 days per person, with an additional USD 50 per day thereafter. According to the Nepalese Government, foreign tourists are not allowed to trek in this area alone, and there should be at least two people in a group, including a guide and porter.
Mustang offers a truly amazing arid landscape, making it well-known as a "rain shadow valley." The hills are formed by sandstone with brown and pink colors, and there are fewer trees in the barren landscape. The main villages in this valley are Lo-Manthang, Tsarang, and Ghami, which were founded before the 15th century and are great for side trips. Additionally, there are many significant monasteries, manes and stupas built here before the 12th century, such as Logheghar or Ghara Gompa, and lines of colorful mane walls.
Lo-Manthang is a small valley surrounded by vibrant sandstone hills and splendid white snow-capped peaks. There are many beautiful things to see, such as ancient and significant monasteries, a monk school, clean and comfortable tea houses, lodges, shops, and an administrative office in the valley. However, the main attraction of this valley is the distinctive culture and religion of the Mustang people, with their whitewashed walls and flat-roofed buildings, as well as the Tiji festival that takes place in the spring and the breathtaking natural beauty. The cultivated fields are in bloom with colorful flowers and crops from late May to late September. The main sources of income for the people here are business, agriculture, and animal husbandry. This place is a fantastic destination for adventurous motorcycle and bicycle tours, allowing you to explore the arid valley of Mustang in a short time.
Introduction to the Trail:
A cycling tour of Upper Mustang is one of the best ways to enjoy the captivating views of this region. We will begin our journey from Kathmandu to Pokhara via the Greenland tourist bus, and then take a short and serene flight to Jomsom, which is the starting point for our exciting cycling trip. We will embark on our cycling tour towards Upper Mustang through the world-famous Kaligandaki sandy river valley with gorgeous views of the Lower Mustang valley, including the Tilicho and Nilgiri magnificent backdrop views.
We will make our first stop in Kagbeni village, where there is a police check post office. We will need to register our permit and exit to ensure our entry and exit from the restricted area. After a short break for refreshments and to register the permit, we will continue following the newly constructed motorable road along the Kaligandaki River through Chhuksang, Tsaile, Samar, Syangboche, Ghani, Dhakmar, Tsarang, and Lo-Manthang, with their authentic Buddhist culture. During our cycling trip, we will be treated to splendid landscapes. However, our Himalayan Diamond Adventure team will take a route to Muktinath, the shrine place for the best view of Dhaulagiri mountain, and explore the periphery of Muktinath village.
Before the availability of a new motor road to this valley, it was a caravan trail up to the border of China for trade. In the past days, Nepalese people used to transport salt, clothes, and other daily necessities from this caravan path using horses, yaks, and sheep to sell in local markets. If you have extra time, you can make a round trip through Yara-Ghara, Tangge, Tetang, and Chhusang. Then, the trip will switch back to Kagbeni, Jomsom, and continue to ride down to Beni to catch a bus for Pokhara. After sightseeing beautiful Pokhara, we will fly back to Kathmandu.
Trip Highlights
Scenic beauty: The trail offers a stunning and unique landscape with sandy hills, snow-capped peaks, and dry and barren terrain, making it well-known as a "rain shadow valley."
Ancient Tibetan Buddhist culture: Upper Mustang has a distinct and ancient Tibetan Buddhist culture and religion, which can be seen in the towering whitewashed walls and flat-roofed buildings of Lo-Manthang and the many monasteries built before the 12th century.
Restricted area: Until 1992, Upper Mustang was forbidden to foreigners and is still a restricted area of Nepal, requiring special permits from the Nepal Tourism Board for trekking or cycling.
Tiji festival: The Tiji festival takes place in spring in Lo-Manthang and is a colorful and vibrant celebration of the victory of good over evil.
Caravan trail: The trail was once a caravan route for trade with China, and visitors can see the remains of this history along the way.
Adventure: Cycling in the rugged terrain of Upper Mustang is an adventure in itself, providing an adrenaline rush and a unique experience for adventurous travelers.
Local culture and lifestyle: Visitors can witness the local people's lifestyle, business, agriculture, and animal husbandry, which are the main sources of income for the people in this region.
Outlined Itinerary
Day 01: Arrival in Kathmandu Airport 1,350 m (4,429 ft), transfer to hotel.
Day 02: Full day Valleys sightseeing Pasupatinath, Bauddhanath and Soyambhunath.
Day 03: Bus journey to Pokahora 820 meters (2,690 ft), 200km, 7hrs.
Day 04: Fly to Jomsom 2,720m (8,924 ft), ride to Kagbeni 2,810 m (9,219 ft), 9hrs.
Day 05: Ride to Muktinath 3,760 meters (12,336 ft), 20km.
Day 06: Ride to Tsaile 3,050 meters (10,006 ft), 18km.
Day 07: Ride to Syangboche 3,800 meters (12,467 ft), 20km.
Day 08: Ride to Tsarang 3,560 meters (11,680 ft), 22km.
Day 09: Pleasant ride to Lo - Manthang 3,810 m (12,500 ft), 20km.
Day 10: Entirely Exploration day in Lo Manthang 3,810 m (12,500 ft).
Day 11: Ride to Chosar - Tingkar valleys back to Lo-manthang.
Day 12: We retreat to Gami village 3,520 meters (11,548 ft), 30km.
Day 13: We ride back to Samar 3,620 m (11,876 ft), 32 Km.
Day 14: Ride back to Marpha 2,670 meters (8,729 ft), 30km.
Day 15: Ride to Tatopani 1,190 meters (3,094 ft), 45km.
Day 16: Ride to Naudanda Sarangkot 1,592 meters (5,223 ft).
Day 17: Sarangkot to Pokhara 820 meters (2,690 ft).
Day 18: Fly back to Kathmandu 1,350 m (4,429 ft), and transfer to hotel
Day 19: Departure to Home.
Detailed Itinerary
Day 01: Arrival in Kathmandu Airport 1,350 meters (4,429 ft), transfers to hotel.
Representatives from Himalayan Diamond Adventures will greet you upon your arrival at Tribhuvan International Airport in Kathmandu. You will be welcomed with a fresh flower garland, a traditional Nepali greeting, and then escorted to the hotel for bed and breakfast service. The drive from the airport to the hotel takes approximately 15 to 20 minutes, if there is no traffic jam on our way. After checking into the hotel, we will have a short refreshment meeting at the hotel. In the evening, the company will host a welcome dinner at a traditional Nepali restaurant, complete with a cultural dance performance, to celebrate the start of your trip. During the dinner, your guide will provide a brief overview of the schedule for the following day.
Day 02: Valley sightseeing to UNESCO world heritage site.
Today, after breakfast, we will embark on a journey to explore some of the popular landmarks and milestones in the Kathmandu Valley, including several UNESCO World Heritage sites such as Pashupatinath Temple, Boudhanath Stupa, Patan Durbar Square, Swayambhunath Stupa, and Bhaktapur Durbar Square. Kathmandu is widely known as the city of temples and a cultural hub in Nepal. These places that we will visit today showcase the cultural and religious diversity of Nepal. Pashupatinath Temple is one of the oldest Hindu temples dedicated to Lord Shiva. Both Boudhanath and Swayambhunath are important sites for Buddhism and are visited by both Hindu and Buddhist followers. These places display the unique architecture, religious tolerance, and diversity that can be found in Nepal.
As Kathmandu has a huge historical history and carries cultural and religious essence a popular destination for tourists. The city presents a remarkable blend of Hinduism, Tibetan Buddhism via its heritage sites like Pashupatinath, Swayambhunath and Boudhanath. Our tour guide will provide you the relevant facts and historical significance of the places like Pashupatinath temple, the largest Buddhist stupa in town- Boudhanath, the 15th-century palace of 55 windows in Bhaktapur and Swayambhunath stupa in Kathmandu which we will visit today.
Day 03: Scenic bus journey from Kathmandu to Pokhara 820 m (2,690 ft), 200 kilometers. Transfer to hotel
Tomorrow morning, we will pick you up from your hotel at around 6:30 am and take you to the bus station. The bus to Pokhara departs at 7:30 am from Kathmandu and takes approximately 7 hours to reach its destination, including a lunch break. During the journey, you will be able to enjoy splendid mountain terrain views, rolling hills, numerous villages and cities, terraced fields, subtropical forests, and beautiful perennial rivers.
Finally, we will arrive in Pokhara, a captivating city surrounded by snow-capped mountains, lakes, and green hills such as Phewa Lake. Pokhara is known for its panoramic views of Annapurna, Machapuchare (which has a fish tail shape) in the north, Dhaulagiri in the west, Lamjung Himal, and Manaslu in the east. It is smaller and much less hectic than Kathmandu, providing the perfect place to relax in the evening.
Day 04: Fly to Jomsom 2,720 m (8,924 ft), assemble the bikes, and ride to Kagbeni 2,810 m (9,219 ft), 12km.
Our destination for today is Kagbeni, a very eye-catching village surrounded by dry and brown sandy hills that resemble an ocean. The village is located at an altitude of 2,810 m (9,219 ft) above sea level. To keep up with our schedule, we will take an early morning flight from Pokhara to Jomsom airstrip, before the Kali Gandaki wind starts blowing. During the flight, we will be treated to mesmerizing views as our plane takes a route between two mountains over 8000 meters tall - Dhaulagiri and Annapurna Himalaya.
After about 30 minutes of enthralling aerial viewing, we will land in Jomsom airport, which is surrounded by an arid landscape. Upon landing, we will assemble our bikes and ride on the relatively flat river trail to Kagbeni, the border-town of the recently forbidden Mustang Kingdom. The trail runs along the sandy bar of the Kali Gandaki River and offers stunning views of Tilicho Mountain.
Day 05: Ride to Muktinath 3,760 meters (12,336 ft), 20km, along the newly opened road with the fascinating dry landscape:
After enjoying a delightful breakfast, we will ride uphill towards Muktinath, a town known for its spiritual significance and considered a place of salvation. Muktinath is located along the Annapurna circuit trail and is a popular tourist destination, offering luxurious hotels and delicious meals amidst the stunning arid landscape. Along the way, the picturesque Kangbeni village dominates the circular and serene landscape, with its terraced oasis providing a beautiful backdrop for the journey. The calm and misty Kaligandaki river flows towards its destination in the Ganges, offering splendid sights for us to admire in the opposite direction.
As we ride towards Muktinath, a shrine with spiritual and religious significance, we may encounter trekkers and pilgrims, primarily from India, making their way to the holy temple. The journey takes us through beautiful villages, gompas, and culturally and religiously rich sites with stunning mountain and ground views.
Day 06: We will ride to Tsaile, which is located at an elevation of 3,050 meters (10,006 ft) and is 18km away.
Today, we will ride along the motorable road, passing through impressive Buddhist villages that feature new apple farming gardens and cultivated terraced farmlands, such as Tangbe and Chhusang. After a short, steep climb, we will reach Tsaile, an ancient Tibetan village located at an elevation of 3,050 meters (10,006 ft), which offers fantastic views of the surrounding landscapes. From here, you can see the enchanting sandy bar valley of the Kali Gandaki River, as well as the giant, colorful hills and white snow-capped peaks of Tilicho and Nilgiri. Along the way, we will also visit a small yet impressive Gompa inside a cave in Chhusang, which is dedicated to White Tara, the Buddha of success and achievement.
Day 07: Today, we will ride to Syangboche, which is located at an elevation of 3,800 meters (12,467 ft) and is 20km away.
Today, we will ride uphill to Dorji La Pass, which is located at an elevation of 3,660 meters (11,811 ft) and can be reached via Sumar, a Buddhist village. In the center of the village, we will descend to a stream where we can observe an eroded water source. From here, we will climb up towards the Bhena La Pass 3,830 meters (12,565 ft) and Yamda La Pass 3,860 meters (12,664 ft), passing through ground-hugging juniper bushes until we reach a small viewpoint. At the viewpoint, we will be able to see the first substantial views of Upper Mustang, with nearby coffee-colored hills. Finally, we will arrive at Syangboche hamlet, which is located at an elevation of 3,800 meters (12,467 ft) and stay at a lodge.
Day 08: Ride to Tsarang 3,560 meters (11,680 ft), 22km, amphitheater valley, Tibetan village.
Today, we will enjoy a pleasant ride through breathtaking high passes, ancient Buddhist villages, pastures, and eye-catching cultivated farmlands between the dry hills, offering beautiful views. We will pass through the central village of Gami before riding uphill steeply to reach the pass. The panoramic viewpoints here offer magnificent views of the Annapurna Himalayan range, Dhaulagiri, and the surrounding wide-angle unparalleled beautiful arid valley views. We will then continue our pleasant ride until we reach Tsarang village, which is rich in unspoiled Tibetan Buddhist culture. The main attractions of Tsarang include old Tibetan culture, red and white pigment Mani walls, Chortens, Gompas, and flat-roofed whitewashed houses. In the evening, we will explore the village and its surroundings
Day 09: Pleasant ride to Lho - Manthang 3,810 meters 912,500 ft), 20km, white-walled ancient city.
After about 2 to 3 hours of a slightly uphill ride followed by a short and gentle downhill ride, we will reach our destination for today: the captivating Lo Manthang city, situated at an altitude of 3,810 meters above sea level. The village is surrounded by colorful sandy hills, resembling an oasis, and is popular for its white-walled, flat mud-roofed city. After enjoying a delicious breakfast, we will continue our ride towards Lo Manthang. Leaving Tsarang, we will follow a newly constructed road and ascend more gently until we reach Lo La at 3,950 meters (12,959 ft), a small pass between the valleys. Lo La offers an unexpectedly serene and rejuvenating atmosphere, along with a breathtaking panoramic view of the wide Northern Mustang valley for tourists to enjoy. We will then ride down to reach the ancient walled capital of Lo Manthang.
Day 10: We will be sightseeing in Lo Manthang, which is situated at an altitude of 3,810 meters.
After breakfast, we will start our sightseeing tour in Lo Manthang. There are many interesting sights to see in and around the city, such as the King's Palace and four major gompas: Jampa Lhakhang (or Jampa Gompa), which is the oldest and was built in the early 15th century and is also known as the "God House"; Thubchen Gompa, a huge red assembly hall and gompa built in the late 15th century and located just southwest of Jampa Gompa; Chodey Gompa, which is now the main city gompa; and Choprang Gompa, which is known as the "New Gompa". In addition, we will visit a Buddhist school and a museum, as well as explore the surrounding areas of the city.
Day 11: Ride to Chosar and Tingkar arid valleys to find unspoiled Tibetan culture, evening ride back to Lo-manthang hotel:
We will leave Lo-Manthang and follow a wide, canyon trail that passes through dry gullies and an ancient ruined fortress. After crossing a bridge and passing through a cultivated area, we will arrive at the cave village of Chosar, where the deep-red Nyphu Gompa is built into the rock face. To reach the gompa, we will need to cross two bridges, and from there we will have views of Gharphu Gompa on the east banks of the Mustang Khola. Beyond the gompa lies the incredible cave-dwelling site called Jhong Cave, which we can explore by negotiating ladders and small tunnels. The site is reputed to be 2,500 years old and is very interesting to visit. As we continue on, we will see a range of spectacular snow-peaks that mark the border with Tibet, and green meadows will line our trail.
The western valley leads to Namgyal Gompa, also known as the Monastery of Victory, which is set spectacularly on top of a desolate ridge. It is the newest and most active Gompa in Lo, and the village of Namgyal spreads out past the gompa. Just beyond the gompa is the large, sprawling village of Thingkar, where the King has his summer palace. The village is surrounded by many ancient ruins, some gompas, and other old fortresses. Further on, we will reach Kimaling village, which is an interesting, walled white-washed and flat-roofed village. Kimaling Gompa is located below the village, and on the way there, we will pass through the Chosar valley, which is the main trading route with Tibet and Lhasa. This valley is peppered with the ruins of old fortresses that once guarded this strategic route. Just north of this valley lies Lhasa, which is located over the border in Tibet.
Day 12: We ride back to Gami village 3,520 meters (11,548 ft), 30km, ride via Tsarang village.
After enjoying the unexplainable beauty of sightseeing at the historical white-washed walled city of Lo-manthang and exploring the hidden arid valleys of Nyepu, Garpu, Jhong, and Tinger, today we will ride back to Gami village via Tsarang ancient Tibetan village taking in the breathtaking landscapes along the way.
Day 13: We ride back to Tsaile 3030m, 32 Km, visiting Ranchung Cave beneath the gigantic hill.
After breakfast, we will continue our ride downhill to Tsaile, following almost the same track. However, we will divert from the main track to visit Ranchung Cave, which is a must-see place along the way. Today, we will be riding downhill once again, with the arid valley view of Mustang behind us.
Day 14: Today, we ride back to Marpha 2,670 meters (8,729 ft), 30km Origin Thakali village:
Today, we will be riding back to Marpha, which is located at an altitude of 2,670 meters (8,729 ft) and is about 30km away from our starting point at the Thakali village. Marpha is a beautiful destination known for its charming architecture, apple orchards, and traditional crafts
After riding off midway we reach Kagbeni checkpoint again, where we have to check out our permit to make clear. This evening we celebrate our enjoyable trip with organizing gathering.
Day 15: Ride to Tatopani 1,190 meters (3,094 ft), 45km, following the Kali Gandaki down river.
After having morning breakfast, we will ride towards Tatopani, which means 'hot water' in the local language. The route will offer us beautiful landscapes to admire along the way. Once we reach Tatopani, we can pamper ourselves in the natural hot springs located beside the Kali Gandaki River. This will give us the opportunity to relax our muscles and unwind to the soothing sounds of the wilderness.
Day 16: Ride from Tatopani to Beni 18km and then catch bus to Naudanda Sarangkot 1,592 m (5,223 ft).
We will continue descent towards Beni, following the Kali Gandaki River until we reach the Baglung highway. From there, we will ride on the highway up to Nau Danda and then take a dirt road to Sarangkot, which is the number one viewpoint in Pokhara for enjoying views of the Himalayas, along with the sunrise and sunset. We will be spending the night at a hotel.
Day 17: Sarangkot to Pokhara 820 meters (2,690 ft), half-day riding, transfer to hotel and free sightseeing around lakeside.
Today, we will ride through a steep and narrow trail to reach Pokhara. Before starting the descent, ensure that you check your brakes as it is a 90% downhill ride. Pokhara is known as the starting or finishing point for some of Nepal's most popular treks, and the city is dominated by the magnificent Fishtail Mountain range and its lakes.
Day 18: Full day sightseeing around Pokhara valley like Peaceful stupa, David falls.
There are various activities to enjoy in Pokhara, such as mountain flight, paragliding, boating, cycling tour, rafting, motorbiking tour, etc. We can also take sightseeing tours around the Peaceful stupa, lakeside, enigmatic caves of Pokhara valley, Davis falls, and the International Mountain Museum.
Day 19: Fly to Kathmandu 1,350 meters (4,429 ft), and transfer to hotel.
Today, we will take an aerial viewing flight to Kathmandu. During takeoff from Pokhara International Airport, we will have breathtaking views of the mountain chain. Before landing at Kathmandu Tribhuvan Airport, we will also enjoy sensational and spectacular mountain views. Upon arrival, we will shuttle you to your hotel where breakfast will be served. In the evening, we will have a welcome dinner at a Nepali cultural restaurant with traditional Nepali dance performances
Day 20: Departure to Home.
We will drop you off at Tribhuvan International Airport before your scheduled check-in time for your international flight. We will be there to see you off.
Note: - The conditions stated in the itinerary are especially for trekkers who prefer full package services. At the same time, we can also customize the itinerary based on your preferences and availability. The selection of itinerary and staff will depend on your needs and financial resources
Cost Details
What's included
1. Airport pickup and drop off service by private vehicle as per your itinerary.
2. Three-night Moonlight Hotel in Kathmandu, with breakfast service included
3. Transportation: Kathmandu to Pokhara by tourist bus.
4. Three nights tourist standard hotel in Pokhara with breakfast service included.
5. Pokhara to Jomsom flight fare included 15 Kg luggage charge.
6. Pokhara to Kathmandu flight fare included 15 kg luggage charge.
7. Three meals in a day during the Cycling tour, Menu on client's choice (Breakfast, Lunch, Dinner
& Dessert), with hot drinks (coffee or tea)
8. Clean and comfortable accommodations during the motorbiking tour.
9. Entry permits: Restricted Area Royalty, ACAP and TIMS or all necessary tour permits.
10. The entry fees for Pashupatinath, Boudhanath, and Swayambhu
11. Mountain bike and helmet.
12. Mechanic with Repairing tools and spare parts.
13. Jeep service for the whole the trip to keeps our baggage, extra spare parts, and Mountain bike.
14. One day full Kathmandu Valley sightseeing with city guide and vehicle service.
15. An English-speaking guide with a valid license, including all expenses such as salary, food, drinks, accommodation, and transportation.
16. Radio sets will be provided each member for the communication.
17. Nepali staff's insurance policy covered rescue evacuation, hospitalization, medical treatment and accidental.
18. Medical supplies (first aid kit will be available).
19. Government taxes and official expenses
20. Welcome dinner and farewell dinner.
What's not included
❖ International airfare.
❖ Nepal entry visa fee.
❖ Personal riding equipment and gears.
❖ Your Travel insurance policy should be covered it rescue evacuation, hospitalization, medical treatment and accidental.
❖ Meals while you are staying in Kathmandu/Pokhara (Lunch and Dinner).
❖ Extra night accommodation in Kathmandu because of early arrival, late departure, early return from the tour (due to any reason) than the scheduled itinerary.
❖ Personal riding equipment and gears.
❖ Any entry fee for the temple or monastery.
❖ Donations or charity.
❖ Your personal expenses like; hot shower, laundry, battery charging, telephone, WIFI, and shopping.
❖ Alcoholic and non-alcoholic hot and cold drinks
❖ Tips for the guide, porter, and driver (tipping is expected).
Client Review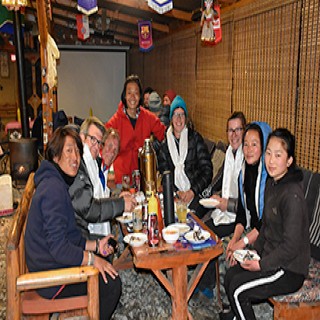 Claudia Gallhofer

, Austria
Mustang without Cycles :) Three weeks we (2 couples) did a camp trek with Chandra through Mustang. Great impressions with a wonderful team They took care for us, cooked great and fulfilled our wishes, if it was possible. Chandra is a good team leader, everything was fine. .And we had lot of fun!
Join Our Fixed Departures
Departure not available for this month. Please choose another month
Useful Info
What Essential Documents Do I Need To Bring With Me On Tour?
When going on a tour, it's important to bring essential documents to ensure a smooth and hassle-free trip. Here are some documents that we highly recommend you bring with you.
Passport: When traveling to a foreign country, it is important to ensure that you have a valid passport with at least 6 months validity remaining before its expiration date and at least 2 blank visa pages. This is because many countries require that your passport is valid for at least six months beyond your expected departure date and has sufficient blank pages for visa stamps and entry/exit stamps.
Visa: Depending on your destination, you may need a visa to enter the country. Check with the embassy or consulate of the country you're visiting to see if you need a visa. Visit the official website of the Department of Immigration of Nepal at https://www.immigration.gov.np/page/tourist-visa
Travel itinerary: It's always a good idea to have a printed copy of your travel itinerary, including flight and hotel reservations, tour bookings, and any other important travel plans.
Travel insurance: As a traveler, it is advisable to purchase a comprehensive travel insurance package that covers potential medical issues, personal accidents, emergency helicopter evacuation, loss or damage of personal belongings, and trip cancellations, especially if you are planning to trek to high altitudes up to 5,500 meters, such as Everest Base Camp. It is also important to ensure that the insurance covers the cost of cancellation for both your international flight and the trek. The minimum recommended coverage amount is USD 100,000. Many insurance companies offer travel insurance services online, so you can easily find a plan that meets your needs.
COVID-19 vaccination certification: To obtain a Nepal tourist visa during the ongoing pandemic, travelers need to show either a completed COVID-19 vaccination certificate with a QR code or a negative PCR test result taken within 72 hours of boarding.
Health documents: If you're traveling to a country with specific health requirements, such as a yellow fever vaccination, make sure to bring the necessary health documents.
Driver's license: If you plan on driving while on tour, make sure to bring your driver's license.
Credit cards and cash: Bring enough cash and credit cards to cover your expenses while on tour.
Emergency contact information: Write down the contact information for someone you trust in case of an emergency. This could include a family member, friend, or employer.
It's always a good idea to make copies of all your important documents and keep them in a safe place in case the originals get lost or stolen. Additionally, you may want to consider using a travel document organizer to keep all your important documents organized and easily accessible.
If you are traveling to Nepal, then here are some essential documents you will need to have with you in order to ensure a smooth and hassle-free trip.
What Essential Documents Do I Need To Bring With Me For the Mustang Trip?
❖ Valid passport with at least 6 months validity and at least 2 blank visa pages
❖ Travel insurance policy document
❖ Photocopies of your passport's personal information page
❖ One or more recent passport-sized photos with a white background (1.5 inch x 1.5 inch)
❖ Completed and signed Nepal visa application form
❖ Proof of accommodation in Nepal (such as a hotel reservation or address)
❖ Valid return flight or travel ticket
❖ Proof of sufficient financial means, such as recent bank statements
❖ Mastercard, Visa, and some cash in USD
❖ Proof of payment of the Nepal visa fee
❖ To obtain a visa for Nepal, your passport must be valid for at least 6 months from the travel date and you must present either a completed COVID-19 vaccination certificate with QR code or a valid PCR test negative result taken within 72 hours prior to boarding.
How to apply for an online tourist visa to Nepal?
Visit the official website of the Department of Immigration of Nepal at https://online.nepalimmigration.gov.np/tourist-visa.
1. Fill out the online application form with your personal information, including your name, date of birth, nationality, passport number, and intended travel dates.
2. Upload a recent passport-size photograph in JPEG or PNG format.
3. Pay the visa fee online using a credit card or debit card. The cost of the visa depends on the length of your stay in Nepal, but it typically ranges from $30 to $125.
4. Once you have submitted your application and payment, you will receive a confirmation email with a receipt and an application ID.
5. After your application has been processed, you will receive another email with a link to download your visa. You should print out the visa and carry it with you when you travel to Nepal. It's important to note that the online tourist visa is valid for multiple entries and is valid for 15, 30, or 90 days, depending on your length of stay. Also, be sure to apply for your visa well in advance of your travel date to allow time for processing.
What Type Of Insurance Should I Get?
It is essential for foreign travelers to secure insurance coverage while trekking or climbing in Nepal. Although trekking in Nepal is generally safe, travel insurance is compulsory for mountaineering activities in Nepal. The trip can pose physical challenges and hazards, particularly at high altitudes where altitude sickness is prevalent among trekkers and climbers, especially those who have not acclimatized properly. Physical injuries can also occur on mountain trails or during climbing activities, and in emergency situations, foreign trekkers or climbers may need to be rescued by helicopter and transported to hospitals in Kathmandu, which can be costly if the traveler does not have insurance coverage.
We strongly recommend purchasing a travel insurance package that covers high altitudes up to 4,000 meters, potential medical issues, natural disasters, personal accidents, emergency helicopter evacuation, loss or damage of personal belongings, and trip cancellations. The minimum recommended coverage amount is USD 100,000. There are many insurance companies that offer travel insurance services online. You should compare plans to find the one that best meets your needs.
What Are Some Popular and Highly Rated Travel Insurance Companies?
If you are in search of popular and highly-rated travel insurance companies, then we can recommend some based on positive feedback we have received from our previous travelers. It is here. [Company 1], [Company 2], [Company 3]............................
For Travelers from USA and CANADA........................
Online Global Health Insurance
Travelex
Insure My Trip.com (Online Insurance Aggregator)
Mondial Assistance
Access America
HCC Medical Insurance Services
Good Neighbor Insurance (International Health)
International Health
Insuremytrip dot com
MultiNational Underwriters
TIC Travel Insurance Coordinators Ltd
Travel Assist
TraveLite
For Travelers from England...................................
Specialty Group (UK) Limited
FirstAssist Services Limited
Harrison Beaumont
Buy cheap travel insurance
For Travellers from EUROPE and SLOVENIA...........................
Assistance CORIS
For Travellers from AUSTRALIA and NEW ZEALAND
Cover More Travel Insurance
CGU Insurance Limited
For Travellers from SOUTH AFRICA........................................
Travel insurance Consultants Pty. Ltd.
What are the weather conditions and temperatures like in Nepal?
As Nepal's topography is divided into three geographical regions - Terai, Hills, and Mountains - each region experiences different temperatures during different seasons. Below is a tabular illustration of temperature changes throughout the different seasons in Nepal, which will allow you to better understand the changing weather conditions.
Seasons Minimum temperature (approx) Maximum temperature (approx) Weather Condition
Spring 4°C/ 39°F (Mountain) 20°C/ 68°F (Mountain) Moderate with occasional rain
Summer 12°C/ 53°F (Mountain) 25°C/ 77°F (Mountain) Extreme high with heavy rain
Autumn 3°C/ 37°F (Mountain) 18°C/ 64°F (Mountain) Moderate
Winter 10°C/ 50°F (Terai) -4°C/ 24°F (Mt.) 20°C/ 68°F (Terai) to 12°C/ 53°F (Mountain) Extreme low
What Is The Best Time To Trek In Nepal?
After a thorough analysis of all the seasons, it has been suggested that autumn is the best time of the year to trek in Nepal. The mild temperatures from September to November make the trekking experience more enjoyable. During this time of the year, trekking routes throughout the country are jam-packed with travelers from all around the world.
However, as mid-December is generally the holiday season in most countries, including the United States, there is a spike in the number of international tourists during early winter as well. Interestingly, to make the holiday season even more special, travel companies offer some of the best holiday destination packages during this time. So, be sure to take advantage of the best travel opportunities with the assistance of Himalayan Diamond Adventure.
Nonetheless, if you cannot make it in autumn, spring also allows for favorable conditions for trekking in Nepal. The warmer days and nights, lush plants and vegetation, and clear trekking trails during spring make the trek worthwhile. However, the downside is occasional rain and slightly higher temperatures in the lower elevations. All in all, after autumn, spring is the second-best time to trek in Nepal.
Best time to trek in Nepal:
Thousands of tourists visit Nepal every year to enjoy the picturesque nature and trek through the adventurous and diverse terrain. However, the best times to trek in Nepal are autumn (September to November) and spring (March to May). During these seasons, travelers are blessed with moderate temperatures and enjoyable weather conditions throughout the country.
As calm as it may seem, the challenging terrains of the Himalayas in Nepal can present trekkers with gruesome scenarios during harsh weather conditions. To avoid any unforeseen situations and to enjoy nature at its best, most trekkers prefer autumn for backpacking. However, it may not be the best time of the year to trek in Nepal for everyone. Some may prefer off-season trekking to avoid the crowds. Therefore, exploring the various seasons can help you choose a favorable time for trekking in Nepal based on your preferences.
Trekking Seasons in Nepal
Throughout the year, the landscape of Nepal experiences four seasons, each with its own uniqueness that brings significant changes to the natural environment. Below are some detailed insights into the four seasons in Nepal.
1. Spring Season (March-May)
Spring in Nepal lasts from March to May and is one of the preferred seasons for trekking throughout the country. During this time, the climate is moderate, with slightly higher temperatures reaching up to about 32°C (89°F) in the lower elevation regions and around 20°C (68°F) at higher altitudes. The sky is usually clear with mild days and occasional rain.
Spring brings a rejuvenation of nature. Flowers begin to blossom, trees become lusher with newly sprung leaves, and spring vegetation sprouts again. Likewise, the flora and fauna of the Himalayan terrain also resuscitate from the harsh winter. Overall, spring is considered a great time for trekking in Nepal due to the alluring freshness of nature.
2. Summer Season (June-August)
With the end of May, summer starts in Nepal and lasts from June to August, which is also the monsoon season in the country. During these months, the weather can be harsh, with scorching heat and heavy rain throughout the nation. The rising humidity and extreme hot weather conditions may restrict travelers from fully enjoying their trip.
Although the lower elevation regions experience harsh summers, the Himalayan terrains are not as brutal. In the mountain regions, temperatures can range from approximately 25°C to 12°C (77°F to 53°F). However, heavy rains can make trekking through rocky mountain terrain challenging, and the cloudy sky may obscure mountain views.
3. Autumn Season (September-November)
With the arrival of autumn from September to November, Nepal becomes a popular destination for trekking. During this season, the weather is usually pleasant with clear skies, moderate temperatures, and gentle sunshine throughout the day. However, early autumn may bring occasional light rainfall. As the season progresses into October and November, the monsoon season completely ends, and cooler weather conditions prevail.
Many people choose to trek to popular destinations such as Everest Base Camp, Annapurna Base Camp, and Poon Hill during this season. Additionally, autumn is festival season in Nepal, and visitors can witness major celebrations such as Dashain and Tihar, which provide an opportunity to experience Nepali culture and traditions. Many travel packages are available for the best treks in Nepal during this season, and our travel experts can help you plan your trip to align with the festival season.
4. Winter Season (December-February)
Winter, which lasts from December to February, is the harshest season for trekking in Nepal. As the temperature drops in December, nights become chilly, and temperatures can reach around 9°C (48°F) during the day and below 0°C (32°F) during the night in higher altitudes. During peak winter, many high passes and trekking routes in the mountains are covered with dense fog and snow, increasing the risk of unexpected accidents.
Because of the risks of unpleasant trekking conditions, most travelers avoid trekking in the Himalayan terrains during the winter season. Additionally, most expeditions and mountain climbing, including trekking in the Everest region, also come to a halt during the harsh winter. Overall, it may not be the best time to trek due to the challenges presented by the weather conditions.
Photos & Video