Fact Information
Duration

19 Days
Destination

Nepal
Difficulty

Moderate difficult
Accommodation

Hotel, Lodge &Tent
Activity

Peak Climbing
Transportation

Tourist Bus, Car & Airplane
Meals

BLD (Breakfast, Lunch and Dinner)
Max Person

25
Min Person

2
Maximum altitude

[6,461m/ 21,197ft]
Best season

Autumn & spring
About Trip
The feeling of accomplishment and pride that comes with reaching the peak, and being rewarded with such an incredible view, is one that you'll carry with you for the rest of your life.
Mera Peak is a trekking peak with an altitude of 6,476 metres (21,247 ft) located in the Mahalangur Himalayan range and the Makalu Barun National Park in Nepal. Mera Peak climbing is a challenging and high-altitude experience, but it offers exceptional panoramic views and an enjoyable climbing experience. Mera peak is the highest trekking peak among the 27 trekking peaks in Nepal, and the peak climbing permit is issued by the Nepal Mountaineering Association.
The Mera Peak climbing trail takes you through a variety of terrains, from lush forests to high-altitude snow and ice. The journey typically starts with a flight from Ramechhap to Lukla or Kathmandu to Phaplu, followed by several days of trekking through beautiful valleys and remote villages. As you ascend higher, you'll pass over glacial moraines and cross high passes, all while taking in incredible views of the surrounding mountains and valleys.
Since the first ascent of Mera Central on May 20, 1953, by Col. Jimmy Roberts and Sen Tenzing, Mera Peak climbing has become famous all over the world. The actual climb of Mera Peak usually involves several days of ascending on gradual steep snow and ice, using mountaineering equipment such as crampons, ice axes, and ropes to navigate the terrain.
At the summit, you'll be rewarded with breathtaking panoramic views of some of the highest peaks in the world, including Mount Everest, Lhotse, Makalu, and Cho Oyu.
Overall, Mera Peak climbing requires a well-acclimatized, physically fit, and endurance climber, but it does not require prior experience with mountaineering techniques. However, with the help of an experienced guide and the right equipment, it is an achievable and unforgettable adventure for those with a sense of adventure and a love for the mountains.
The Mera Peak climbing itinerary that we have brought to you is 20 days long, including acclimatization and contingency days. In addition to climbing Mera Peak, you will also have the opportunity to visit the UNESCO World Heritage sites located in the Kathmandu Valley through this customized tour offered by Himalayan Diamond Adventure.
Trip Highlights
High-altitude trekking: Mera Peak is located at an altitude of 6,476 metres (21,247 ft), so climbing it involves high-altitude trekking through varied terrain, including lush forests, glacial moraines, and high-altitude snow and ice.
Panoramic views: The climb to the summit of Mera Peak offers breathtaking panoramic views of some of the highest peaks in the world, including Mount Everest, Lhotse, Makalu, and Cho Oyu.
Challenging climb: Mera Peak climbing is a challenging climb, requiring physical fitness and endurance, but it does not require prior experience with mountaineering techniques. It is a great opportunity for those seeking a challenge and an adventure.
Cultural experience: The trek to Mera Peak takes you through remote villages and offers opportunities to experience the local culture and customs of the Rai and Sherpa people who live in the region.
Wildlife sightings: The trek through the Makalu Barun National Park provides opportunities to see a variety of wildlife, including Himalayan thar, musk deer, and the elusive snow leopard.
UNESCO World Heritage sites: In addition to the climbing experience, many Mera Peak climbing itineraries include visits to the UNESCO World Heritage sites located in the Kathmandu Valley, which offer a glimpse into Nepal's rich history and culture.
Outlined Itinerary
Day 01: Arrival in TIA of Kathmandu (1,350 meters), and transfer to hotel
Day 02: Preparation Day for Mera Peak climbing.
Day 03: Bus journey to Ramechhap airport and flight to Lukla trek starts to Paiya 2,730m (8,956 ft) 4hrs.
Day 04: Trek from Paiya to Panggom 2,846m (9,337 ft), 8hrs.
Day 05: Trek from Panggom to Ningsuwa 2,863m (9,393 ft), 6hrs.
Day 06: Trek from Ningsow to Chhatra Khola 2,800m (9,186 ft), 7hrs.
Day 07: Trek from Chhatra Khola to Kothe, 3,691m (12,109 ft), 8hrs.
Day 08: Trek from Kothe to Thangnag 4,350m (14,270 ft), 4hrs.
Day09: Acclimatization Day in Thangnag,
Day 10: Trek from Thangnag to Khare 4,950m (16,240 ft), 4hrs.
Day 11: Hike to Mera La 5,41500m, (17,765 ft) and back to Khare lodge.
Day 12: Trek from Khare to Mera High Camp 5,780m (18,958 ft), 6hrs
Day 13: Attempt Mera summit 6,461m (21,197 ft) and back to Khare 4,950m (16,240 ft), 8hrs.
Day 14: Contingency day
Day 15: Trek back to Kothe 3,691m (12,109 ft), 4hrs.
Day 16: Trek from Kothe to Thuli Kharka 4,300m (14,107 ft), 8hrs.
Day 17: Trek from Thuli Kharka to Lukla 2,860m (9,383 ft), 9hrs.
Day 18: Fly back to Ramechhap airport drive to Kathmandu hotel 1,350m (4,429 ft).
Day 19: Sightseeing tour in Kathmandu valley
Day 20: Departure home.
Detailed Itinerary
Day 01: Arrival in TIA of Kathmandu 1,350 meters (4,429 ft), transfers to hotel.
Representatives from Himalayan Diamond Adventures will greet you upon your arrival at Tribhuvan International Airport in Kathmandu. You will be welcomed with a fresh flower garland, a traditional Nepali greeting, and then escorted to the hotel for bed and breakfast service. The drive from the airport to the hotel takes approximately 15 to 20 minutes, if there is no traffic jam on our way. After checking into the hotel, we will have a short refreshment meeting at the hotel. In the evening, the company will host a welcome dinner at a traditional Nepali restaurant, complete with a cultural dance performance, to celebrate the start of your trip. During the dinner, your guide will provide a brief overview of the schedule for the following day.
Accommodation: 3 to 5 Stars standard of hotel.
Transportation: Private tourist bus or car.
Meals: Welcome Dinner includes drinks.
Day 02: Climbing preparation day before leaving mountain.
If you are not well equipped, it is a good idea to collect climbing gear before leaving on Mountain trip. There are many trekking gear shops around Thamel Bazaar where you can purchase the necessary equipment.
Accommodation: 3-to-5-star hotel.
Meals: Breakfast with hot drinks.
Day 03: Fly to Lukla 2,840m (9,317 ft), trek begins to Phakding 2,610m (8,563 ft), 2. 3hrs.
Tomorrow morning, we will take an early flight from Ramechhap to Lukla, so we will need to leave the hotel very early. The drive to Ramechhap airport will take approximately 5 to 6 hours in a private vehicle, covering a distance of 135 kilometers. From Ramechhap airport, we will take a short but exciting flight to Lukla Hillary airport, known for its challenging airport with a short and narrow runway. After a short stop in Lukla for last-minute trip preparations, we will begin our journey to Paiya following a narrow path. The trek will take us downward through villages with breathtaking views. After about an hour of descending, we will reach Surke and then climb up a steep jungle path to reach Pakhapani. The trail is rugged and tiring, but the scenic views and close proximity to nature completely compensate for all physical exhaustion.
Maximum elevation: 2,730m (8,956 ft).
Trekking duration: 5hrs, 570m descent, 440m ascent.
Accommodation: Lodge.
Meals: L, D, B and hot drinks.
Day 04: Trek from Paiya to Panggom 2,846m (9,337 ft), 8hrs.
oday, we will trek up and down rugged terrain and trails as we head towards Panggom from Paiya. The sights for today will include ancient silver pine, rhododendron, and bamboo forests. We will trek up to
Kari La Pass (3,145 meters) and then trek down, enjoying the wide and fascinating landscape of the beautiful Dudhkoshi river valley and Dudh Kund Himal. The trail may be rugged, but the scenic beauty will make up for it.
We will take a break at a T-house in Kharte to enjoy our lunch before continuing on to Panggom. Panggom is a more welcoming and developed place with comfortable lodges that offer Wi-Fi services. Today, we will have clean and comfortable rooms, as well as delicious meals.
Maximum elevation: 2,846m (9,337 ft)
Trekking duration: 5 to 6hrs, ascent 660m, descent 544m.
Accommodation: Lodge.
Meals: B, L, D and hot drinks.
Day 05: Trek from Panggom to Ningsuwa 2,863m (9,393 ft), 4hrs.
The fifth day of this tour is comparatively quite easy, as it takes normal trekkers only 4 to 5 hours to reach Ningsuwa. Ningsuwa is a very primitive place and resembles a jungle camp.
We will start our scenic journey by ascending steeply uphill to the Panggoma La 3,286m, (10,781 ft), and then the trail will drop slightly to the Sibuje Danda. From Sibuje hill, our trail will separate from the way to Chereme and continue ahead to the corner of the forest camp. Finally, we will trek through a small jungle, following a narrow but natural trail to reach Ningsuwa for our stay.
Maximum elevation: 2,863m (9,393 ft).
Trekking duration: 4hrs, ascent 450m, descent 848m.
Accommodation: T-house.
Meals: B, L, D and hot drinks.
Day 06: Trek from Ningsow to Chhatra Khola 2,800m (9,186 ft). 4hrs
Today, we will do a lot of ascending and descending along tiny jungle trails and enjoy the picturesque rhododendron and pine forests. We might even witness some of the forest's residents, such as sloth bears, wild cats, red pandas, and more. Leaving from our tea-house camp, we will steeply ascend to Viewing Hill, which is tough to climb but offers a spectacular view. We will stop here to enjoy the scenery for a while.
After descending steeply opposite Ramailo Danda, we will come across the boundary of Makalu and Barun National Park on a steep and narrow trail. We will walk along the jungle cliff trail several times. Finally, we will reach the Chhatra Khola camp and stay in a basic tea-house camp in the middle of the jungle.
Maximum elevation: 2,800m (9,186 ft).
Trekking duration: 8 hours.
Accommodation: Basic T- house.
Meals: B, L, D and drinks.
Day 07: Trek from Chhatra Khola to Kothe, 3,691m (12,109 ft), 8hrs
We will be walking towards the north on the main trail to Mera Peak, amidst the bamboo forests and mixed pine forest. At the beginning of the journey, our trail will rise steeply uphill under the bamboo forest and then gradually uphill.
After about 4 hours of uphill jungle walk, we will reach Thoktor, where tea houses are available. This is a good place for trekkers to take a break and have refreshments and a hot lunch before reaching Kothe. After lunch, we will walk gradually downhill towards the Hinku Khola under the bamboo and pine forest. In the last stage, the trail ascends slightly up to the Kothe lodge, which will take around one hour of walking for normal trekkers. Kothe is situated on the bank of the Hunku River, and due to the availability of shops, clean and comfortable rooms, it is a preferred tourist place.
Maximum elevation: 3,691m (12,109 ft).
Trekking duration: 8 hours.
Accommodation: Lodge.
Meals: B, L, D and hot drinks.
Day 08: Trek from Kothe to Thangnag 4,350m (14,270 ft), 4hrs.
Today, we will walk through the rockfall debris following the up Hinku Khola in the shade of Mera Peak for most of our journey. We can see the eye-catching view of the Kaiser peak in front of us at the start of the day. About 2 hours of walking on stone gravel leads us to Gondishung; the summer herders' settlement on the west bank of the Hinku Thangnag. It is a perfect place to take a break for refreshments and a cup of tea. Leaving Gondishung, our trail gets easier to follow. From the 200-year-old Lungsum Gha Gompa, a short walk takes us to Thangnag; a summer grazing area with primitive lodges and shops.
Maximum elevation: 4,350m (14,270 ft).
Trekking duration: 4-5hrs, ascent 660m.
Accommodation: Lodge.
Meals: B, L, D and hot drinks.
Day 09: Acclimatization Day in Thangnag.
Since we are gaining altitude, it's important that we acclimatize so that we don't get hit by altitude sickness. We take a day to acclimatize in Thangnag, enjoying the mesmerizing views of Kusum Kanguru peak and other hills from Thangnag as we hike the peripheral area. We also do some climbing practice.
Activities: Hiking and climbing practice.
Accommodation: Lodge.
Meals: B, L, D and hot drinks.
Day 10: Trek from Thangnag to Khare 4,950m (16,240 ft), 4hrs.
We start our day by following the lateral moraine of Dig Glacier to Dig Kharka, which offers spectacular views of Charpate Himal. The trail climbs across the strenuous Khare moraines to the snout of the Hinku Nup and Shar Glaciers. It then climbs more steeply to Khare. During our trek, we can view the Northern face of Mera Peak. Overnight stay at a lodge in Khare.
Maximum elevation: 4,950m (16,240 ft).
Trekking duration: 3-4hrs, ascent 600m.
Accommodation: Lodge.
Meals: B, L, D and hot drinks.
Day 11: Hike to Mera La 5,415m, (17,765 ft), 4hrs.
Today's schedule involves hiking up to Mera La at 5,415m (17,765 ft). This will serve as both acclimatization and climbing practice. The trek to Mera La takes 7 to 8 hours round trip from the lodge, so we will need to wake up at first light to have breakfast and pack enough lunch and drinks for the hike. We will walk over lateral moraines and permanent snowfields, with stunning circular mountain views.
Maximum altitude: 5415 meters, ascent 465 meters
Accommodation: Lodge.
Meals: B, L, D and hot drinks.
Day 12: Trek from Khare to Mera High Camp 5,780m (18,958 ft), 6hrs.
We take the route through Mera La pass to reach the Mera high camp today. Our path is along a rocky trail, which can be hazardous if it has recently snowed, as there are a number of crevasses/cracks. We make our way to the top of the rock band, which is marked by a large cairn. Today, as we climb towards Mera High Camp, we can enjoy spectacular views of Mt. Everest, Makalu, Cho-Oyu, the south face of Lhotse, Nuptse, Chamlang, and Baruntse, including Mount Everest. We will have an overnight stay in a tent at Mera High Camp, which is located at 5,780 meters.
Maximum elevation: 5,780m (18,958 ft).
Climbing duration: 6 - 7hrs, ascent 830m.
Accommodation: Tent.
Meals: B, L, D and hot drinks.
Day 13: Attempt Mera summit 6,461m (21,197 ft), return to Khare 4,950m (16,240 ft), 10hrs.
Today is going to be a long day as we head towards Mera Peak, which stands at 6,461m (21,197 ft), before switching back to Khare lodge. We will wake up around 1:00 AM for breakfast and get ready to attempt the summit. It will be very cold at the beginning of the climb, but we will warm up soon as we ascend up the permanent snowfield and onto a peculiar ridge.
As the first rays of the sun hit the big peaks in an amazing red glow, the route will still be non-technical and we will slowly climb higher into the ever-thinning air. The slope steepens for a section behind the ridge, and the summit comes back into view. Depending on the conditions, we may attach to a fixed rope at the foot of the final steep summit cone. The summit is only a few meters away, and from there we will take in an amazing view of the mighty mountains, including Mt. Everest 8,848 meters (29,029 ft), Cho-Oyu 8,201 meters (26,906 ft), Lhotse 8,516 meters (27,939 ft), Makalu 8,464 meters (27,769 ft), Kanchenjunga 8,586 meters (28,169 ft), Nuptse 7,855 meters (25,771 ft), Chamlang 7,319 meters (24,012 ft), Baruntse 7,129 meters (23,389 ft), and other neighboring mountains.
After taking in the 360-degree views of the majestic mountains from the apogee of Mera Peak, we will retrace our steps back to the high camp, where we will rest for a while before descending down to Khare.
Maximum elevation: 4,950m (16,240 ft).
Climbing duration: 5-6hrs, ascent 681m.
Descending duration: 4-5hrs, descent 1,511m.
Accommodation: Lodge.
Meals: B, L, D and hot drinks.
Day 14: Contingency day
The fourteenth day of our itinerary is reserved as a contingency day in case our Mera Peak climbing doesn't go as planned due to unfavorable weather or any other reasons. If we are lagging behind on the itinerary, we can compensate for it today. However, if we are right on schedule, we will simply move ahead as planned.
Day 15: Trek back to Kothe 3,691m (12,109 ft)
After our exhilarating summit experience, we will trek back to Kothe via the same trail that we used previously. Today, we will celebrate our successful trip by trying out delicious local cuisine and drinks, including wine. Cheers!
Maximum elevation: 3,691m (12,109 ft)
Trekking duration: 6-7hours, descent 1,260m.
Accommodation: Lodge.
Meals: B, L, D and hot drinks.
Day 16: Trek from Kothe to Thuli Kharka 4,300m (14,107 ft), 7hrs.
Today, we will walk through mixed forests of rhododendron, bamboo, and silver pine on the west side of the Hinku Valley to Thuli Kharka. The months of April and May are particularly beautiful due to the blooming rhododendrons, which are the national flower of Nepal. Along our journey, we will have the opportunity to admire beautiful hills sprinkled with rhododendrons.
At the end of the day, we will be rewarded with remarkable views of Mera North, Mera Central, and Mera South, as well as views of the Salpa Valley in front of us.
Maximum elevation: 4,300m (14,107 ft).
Trekking duration: 7-8hrs, ascent 610m.
Accommodation: Lodge.
Meals: B, L, D and hot drinks.
Day 17: Trek from Thuli Kharka to Lukla 2,860m (9,383 ft), 9hrs.
Today, we will begin our trek with a steep ascent to Zatrwa La Pass at 4,610m (15,124 ft). After crossing the small Zatra La Pass at 4,580m (15,026 ft), you will be awe-inspired by the stunning views of the Salpa and Lukla valleys, which are surrounded by peaks such as Cho Oyu, Kwangde Peak, Numbur Himal, and Kusum Khangru.
From Zatrwa La Pass, our trail drops steeply all the way down to Chutanga and then gradually descends to Lukla village. In the evening, we will enjoy dinner in the beautiful setting of the Nepalese Himalayas with our crew. We will spend the night at a lodge, which includes dinner and breakfast with tea and coffee.
Maximum elevation: 2,860m (9,383 ft).
Trekking duration: 8-9hrs, ascent 310m, descent 1,750m.
Accommodation: Lodge.
Meals: B, L, D and hot drinks.
Day 18: Fly to Ramechhap airport and drive back to Kathmandu hotel 1,350 m, (4,429 ft) 7hrs.
After an unforgettable journey, we'll fly to Ramechhap and drive back to Kathmandu. To celebrate the trip, we'll have a farewell dinner in this evening at a Nepali cultural restaurant, complete with traditional dance
Day 19: Valley sightseeing.
We'll tour UNESCO World Heritage sites in the Kathmandu Valley, including Pashupatinath, Swayambhunath, Patan Durbar Square, and Boudhanath. Pashupatinath and Swayambhunath are religious shrines revered by Hindus and Buddhists. Boudhanath also showcases the religious and cultural diversity of Nepal. Additionally, we'll visit Bhaktapur Durbar Square and Patan Durbar Square, two royal palaces with historical significance and monuments.
Return back to the hotel and overnight stay.
Transportation: Tourist Bus.
Permits: Entry Permits of Patan, Bhaktapur, and Kathmandu.
Accommodation: 3 Stars standard of hotel.
Meals: Farewell Dinner and Breakfast.
Day 20: Finally, departure.
We'll drop you off at Tribhuvan International airport and say goodbye as you head home
Note: that the outlined itinerary is designed for those who prefer a full package service. However, we understand that preferences and time constraints may vary, so we offer the flexibility to customize the itinerary according to your needs. The selection of itineraries and staff will be based on your specific requirements and budget. Additionally, we have options available for partial visits to accommodate your preferences and financial situation.
Cost Details
What's included
1. Airport pickup and drop off by the private vehicle as per your itinerary.
2. 3 Overnight Hotel Moonlight in Kathmandu included breakfast.
3. KTM to Ramechhap airport and Ramechhap airport to KTM Hotel transportation by private Car.
4. Ramechhap/Lukla/Ramechhap flights fare included 15Kg luggage.
5. The menu on client's choice, Three meals in a day (Breakfast, Lunch, Dinner & Fresh fruits), with (hot drinks, like tea, Coffee, Ginger lemon, Ginger lemon tea, Ginger lemon honey, hot chocolate, milk tea, milk coffee, hot water).
6. T- house accommodations during the trek, clean and comfortable. We provide room in Lukla with private western toilet.
7. Entry permits: Peak permit, Garbage deposited $500, Makalu Rarun National Park fee and Pasang Lhamu Municipality fee.
8. Climbing grouping gears, dynamic Ropes, static Ropes, Snow bar, Ice crew, Carabineers, Runners, Rock Pitons, Auxiliary cords (All necessary gears).
9. Two-man sharing big North Face VE 24 tent, comfortable mat, dining hall, armchair, clean table with solar light.
10. Sufficient and tasty hygienically prepared food with a variety of drink.
11. Satellite Phone & Radio set for communication
12. We have available personal climbing gears, Harness, Helmet, Jumer, Crampon, Ice, boots, Figure 8 (Pay extra at a reasonable cost).
13. Transportations: - Private car pick up and drop off for domestic and international Airport.
14. One day valley sightseeing, Patan, Bhaktapur, and Ktm with city guide with transportation.
15. Guide: Myself.
16. One Strong and helpful porters between two members with proper equipment, Warm clothing and required trekking gear for porters like Gore-Tex jacket /trousers, trekking shoes, woolen hat, woolen gloves, woolen socks, sunglasses, etc.
17. Nepalese staff's insurance policy covered emergency rescue evacuation helicopter, Hospitalization, medical treatment and accidental.
18. Medical supplies (first aid kit will be available).
19. Company's complimentary: Duffle bag, Map and company T-short.
20. Hot bag services.
21. Government taxes and official expenses.
22. Entry fee: UNESKO heritage sites.
23. Welcome dinner and farewell dinner in Nepali cultured restaurant
What's not included
❖ Personal trekking equipment and gears.
❖ Nepal entry visa fee.
❖ International airfare bill.
❖ Extra night accommodation in Kathmandu because of early arrival, late departure, early return from mountain (due to any reason) than the
❖ Meals while you stay in Kathmandu Hotel Lunch and Dinner.
❖ Your travel insurance policy should be covered rescue evacuation, medical treatment and accidental.
❖ Any entry fee for the temple or monastery.
❖ Donations or charity.
❖ Your personal expenses like; Hot shower, Laundry, Battery charging, telephone, WIFI, and shopping, etc.
❖ Alcoholic and non-alcoholic alcoholic hot and cold drinks.
❖ Tips for the guide, porter, and driver (tipping is expected)
Client Review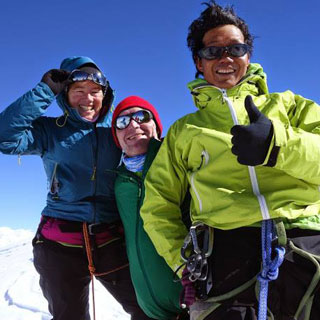 Ingmar Ackermann

, Germany
In April 2015 we had the opportunity to travel to Nepal again, this time on an expedition to climb Mera Peak with our guide Chandra Shor Rai. From the very first moment of meeting in Kathmandu, we knew that we would be in good hands with him.
Chandra did review our equipment with great diligence and made sure that we were properly prepared in order to maximize our chances of a successful climb. His in depth knowledge of the mountain conditions was invaluable in getting us prepared. Also, he communicated in very good English and very openly, making it easy for us to understand him and develop trust.
Once we were on the trail it became clear that he also is very capable of organizing and motivating the team. With his friendly and open style, he did ensure that the camp was always ready, briefed us properly on the path ahead and always looked after our and the porters well being. The food he prepared was always excellent and we never did experience any health issues on the way, due to his high standards of quality. Whenever possible he catered for fresh ingredients and did quickly respond to our specific needs. We never had better food on a trek in the Himalayas.
Despite very challenging weather conditions on this trek, Chandra ensured that we, as well as the team, always were comfortable. He adjusted our daily route and routine to the actual conditions whenever required. This was done with a good eye for our capabilities, the weather conditions and the actual trail, and always with a smile on his face. Chandra was dedicated to give us an optimal preparation for the summit climb! As a guide, he was always there when we needed him while leaving us the freedom to walk as we liked whenever possible.
His mountain skills are outstanding, both with respect to his personal climbing capabilities as well as leading a group. Every detail of the ascend was planned and executed to perfection. High camp was well prepared, summiting start timing adjusted to our climbing speed and all gear available at the right time. Under his guidance, we always felt save, even in the unfavourable conditions we did face. Without him we would not have made it to the top, with him we made it safely and in great spirits.
We can only recommend Chandra as a mountain guide wholeheartedly. His professional knowledge paired with his great attitude, good communication, dedication and friendliness do make him an outstanding leader.
Useful Info
What Essential Documents Do I Need To Bring With Me On Tour?
When going on a tour, it's important to bring essential documents to ensure a smooth and hassle-free trip. Here are some documents that we highly recommend you bring with you.
Passport: If you're traveling to a foreign country, you'll need a valid passport. Make sure to check the expiration date and renew it if necessary.
Visa: Depending on your destination, you may need a visa to enter the country. Check with the embassy or consulate of the country you're visiting to see if you need a visa.
Travel itinerary: It's always a good idea to have a printed copy of your travel itinerary, including flight and hotel reservations, tour bookings, and any other important travel plans.
Travel insurance: Consider purchasing travel insurance to protect yourself against unforeseen events, such as trip cancellations, medical emergencies, and lost or stolen luggage.
Health documents: If you're traveling to a country with specific health requirements, such as a yellow fever vaccination, make sure to bring the necessary health documents.
Driver's license: If you plan on driving while on tour, make sure to bring your driver's license.
Credit cards and cash: Bring enough cash and credit cards to cover your expenses while on tour.
Emergency contact information: Write down the contact information for someone you trust in case of an emergency. This could include a family member, friend, or employer.
It's always a good idea to make copies of all your important documents and keep them in a safe place in case the originals get lost or stolen. Additionally, you may want to consider using a travel document organizer to keep all your important documents organized and easily accessible.
If you are traveling to Nepal, then here are some essential documents you will need to have with you in order to ensure a smooth and hassle-free trip.
What Essential Documents Do I Need To Bring With Me For Mera Climbing Tripr?
❖ Valid passport with at least 6 months validity and at least 2 blank visa pages
❖ Travel insurance policy document
❖ Photocopies of your passport's personal information page
❖ One or more recent passport-sized photos with a white background (1.5 inch x 1.5 inch)
❖ Completed and signed Nepal visa application form
❖ Proof of accommodation in Nepal (such as a hotel reservation or address)
❖ Valid return flight or travel ticket
❖ Proof of sufficient financial means, such as recent bank statements
❖ Mastercard, Visa, and some cash in USD
❖ Proof of payment of the Nepal visa fee
❖ To obtain a visa for Nepal, your passport must be valid for at least 6 months from the travel date and you must present either a completed COVID-19 vaccination certificate with QR code or a valid PCR test negative result taken within 72 hours prior to boarding.
How to apply for an online tourist visa to Nepal?
Visit the official website of the Department of Immigration of Nepal at https://www.immigration.gov.np/page/tourist-visa
1. Fill out the online application form with your personal information, including your name, date of birth, nationality, passport number, and intended travel dates.
2. Upload a recent passport-size photograph in JPEG or PNG format.
3. Pay the visa fee online using a credit card or debit card. The cost of the visa depends on the length of your stay in Nepal, but it typically ranges from $30 to $125.
4. Once you have submitted your application and payment, you will receive a confirmation email with a receipt and an application ID.
5. After your application has been processed, you will receive another email with a link to download your visa. You should print out the visa and carry it with you when you travel to Nepal. It's important to note that the online tourist visa is valid for multiple entries and is valid for 15, 30, or 90 days, depending on your length of stay. Also, be sure to apply for your visa well in advance of your travel date to allow time for processing.
What Type Of Insurance Should I Get?
It is essential for foreign travelers to secure insurance coverage while trekking or climbing in Nepal. Although trekking in Nepal is generally safe, travel insurance is compulsory for mountaineering activities in Nepal. The trip can pose physical challenges and hazards, particularly at high altitudes where altitude sickness is prevalent among trekkers and climbers, especially those who have not acclimatized properly. Physical injuries can also occur on mountain trails or during climbing activities, and in emergency situations, foreign trekkers or climbers may need to be rescued by helicopter and transported to hospitals in Kathmandu, which can be costly if the traveler does not have insurance coverage.
We strongly recommend purchasing a travel insurance package that covers high altitudes up to 6,000 meters, potential medical issues, natural disasters, personal accidents, emergency helicopter evacuation, loss or damage of personal belongings, and trip cancellations. The minimum recommended coverage amount is USD 100,000. There are many insurance companies that offer travel insurance services online. You should compare plans to find the one that best meets your needs.
What Are Some Popular And Highly Rated Travel Insurance Companies?
If you are in search of popular and highly-rated travel insurance companies, then we can recommend some based on positive feedback we have received from our previous travelers. It is here. [Company 1], [Company 2], [Company 3]............................
For Travelers from USA and CANADA........................
Online Global Health Insurance
Travelex
Insure My Trip.com (Online Insurance Aggregator)
Mondial Assistance
Access America
HCC Medical Insurance Services
Good Neighbor Insurance (International Health)
International Health
Insuremytrip dot com
MultiNational Underwriters
TIC Travel Insurance Coordinators Ltd
Travel Assist
TraveLite
For Travelers from England...................................
Specialty Group (UK) Limited
FirstAssist Services Limited
Harrison Beaumont
Buy cheap travel insurance
For Travellers from EUROPE and SLOVENIA...........................
Assistance CORIS
For Travellers from AUSTRALIA and NEW ZEALAND
Cover More Travel Insurance
CGU Insurance Limited
For Travellers from SOUTH AFRICA........................................
Travel insurance Consultants Pty. Ltd.
Weather Conditions & Temperature in Nepal
As Nepal's topography is divided into three geographical regions - Terai, Hills, and Mountains - each region experiences different temperatures during different seasons. Below is a tabular illustration of temperature changes throughout the different seasons in Nepal, which will allow you to better understand the changing weather conditions.
Seasons Minimum temperature (approx) Maximum temperature (approx) Weather Condition
Spring 4°C/ 39°F (Mountain) 20°C/ 68°F (Mountain) Moderate with occasional rain
Summer 12°C/ 53°F (Mountain) 25°C/ 77°F (Mountain) Extreme high with heavy rain
Autumn 3°C/ 37°F (Mountain) 18°C/ 64°F (Mountain) Moderate
Winter 10°C/ 50°F (Terai) -4°C/ 24°F (Mt.) 20°C/ 68°F (Terai) to 12°C/ 53°F (Mountain) Extreme low
What Is The Best Time To Trek In Nepal?
After a thorough analysis of all the seasons, it has been suggested that autumn is the best time of the year to trek in Nepal. The mild temperatures from September to November make the trekking experience more enjoyable. During this time of the year, trekking routes throughout the country are jam-packed with travelers from all around the world.
However, as mid-December is generally the holiday season in most countries, including the United States, there is a spike in the number of international tourists during early winter as well. Interestingly, to make the holiday season even more special, travel companies offer some of the best holiday destination packages during this time. So, be sure to take advantage of the best travel opportunities with the assistance of Himalayan Diamond Adventure.
Nonetheless, if you cannot make it in autumn, spring also allows for favorable conditions for trekking in Nepal. The warmer days and nights, lush plants and vegetation, and clear trekking trails during spring make the trek worthwhile. However, the downside is occasional rain and slightly higher temperatures in the lower elevations. All in all, after autumn, spring is the second-best time to trek in Nepal.
Best time to trek in Nepal:
Thousands of tourists visit Nepal every year to enjoy the picturesque nature and trek through the adventurous and diverse terrain. However, the best times to trek in Nepal are autumn (September to November) and spring (March to May). During these seasons, travelers are blessed with moderate temperatures and enjoyable weather conditions throughout the country.
As calm as it may seem, the challenging terrains of the Himalayas in Nepal can present trekkers with gruesome scenarios during harsh weather conditions. To avoid any unforeseen situations and to enjoy nature at its best, most trekkers prefer autumn for backpacking. However, it may not be the best time of the year to trek in Nepal for everyone. Some may prefer off-season trekking to avoid the crowds. Therefore, exploring the various seasons can help you choose a favorable time for trekking in Nepal based on your preferences.
Trekking Seasons in Nepal
Throughout the year, the landscape of Nepal experiences four seasons, each with its own uniqueness that brings significant changes to the natural environment. Below are some detailed insights into the four seasons in Nepal.
1. Spring Season (March-May)
Spring in Nepal lasts from March to May and is one of the preferred seasons for trekking throughout the country. During this time, the climate is moderate, with slightly higher temperatures reaching up to about 32°C (89°F) in the lower elevation regions and around 20°C (68°F) at higher altitudes. The sky is usually clear with mild days and occasional rain.
Spring brings a rejuvenation of nature. Flowers begin to blossom, trees become lusher with newly sprung leaves, and spring vegetation sprouts again. Likewise, the flora and fauna of the Himalayan terrain also resuscitate from the harsh winter. Overall, spring is considered a great time for trekking in Nepal due to the alluring freshness of nature.
2. Summer Season (June-August)
With the end of May, summer starts in Nepal and lasts from June to August, which is also the monsoon season in the country. During these months, the weather can be harsh, with scorching heat and heavy rain throughout the nation. The rising humidity and extreme hot weather conditions may restrict travelers from fully enjoying their trip.
Although the lower elevation regions experience harsh summers, the Himalayan terrains are not as brutal. In the mountain regions, temperatures can range from approximately 25°C to 12°C (77°F to 53°F). However, heavy rains can make trekking through rocky mountain terrain challenging, and the cloudy sky may obscure mountain views.
3. Autumn Season (September-November)
With the arrival of autumn from September to November, Nepal becomes a popular destination for trekking. During this season, the weather is usually pleasant with clear skies, moderate temperatures, and gentle sunshine throughout the day. However, early autumn may bring occasional light rainfall. As the season progresses into October and November, the monsoon season completely ends, and cooler weather conditions prevail.
Many people choose to trek to popular destinations such as Everest Base Camp, Annapurna Base Camp, and Poon Hill during this season. Additionally, autumn is festival season in Nepal, and visitors can witness major celebrations such as Dashain and Tihar, which provide an opportunity to experience Nepali culture and traditions. Many travel packages are available for the best treks in Nepal during this season, and our travel experts can help you plan your trip to align with the festival season.
4. Winter Season (December-February)
Winter, which lasts from December to February, is the harshest season for trekking in Nepal. As the temperature drops in December, nights become chilly, and temperatures can reach around 9°C (48°F) during the day and below 0°C (32°F) during the night in higher altitudes. During peak winter, many high passes and trekking routes in the mountains are covered with dense fog and snow, increasing the risk of unexpected accidents.
Because of the risks of unpleasant trekking conditions, most travelers avoid trekking in the Himalayan terrains during the winter season. Additionally, most expeditions and mountain climbing, including trekking in the Everest region, also come to a halt during the harsh winter. Overall, it may not be the best time to trek due to the challenges presented by the weather conditions.