Fact Information
Duration

13 Days
Destination

Nepal
Difficulty

Moderate
Accommodation

Hotel & Lodges
Activity

Trekking
Transportation

Tourist Bus, Car, Jeep, Air-plane
Meals

BLD (Breakfast, Lunch and Dinner)
Max Person

18
Min Person

1
Maximum altitude

[5,357m/ 17,575 ft]
Best season

September, October, November, April & May
About Trip
"Overall, the Gokyo Fifth Lake and Renjo La Pass Trek is a truly unique and unforgettable experience that offers a glimpse into the natural beauty and cultural heritage of the Everest region"
The Gokyo Lake and Renjo La Pass trek is considered the most beautiful trek for adventure seekers in the Everest region. It offers an exceptional trekking experience for nature and culture lovers, as the trail takes you through picturesque landscapes, famous Sherpa mountaineer villages, teahouses, and cultivated farmlands. After reaching the highest point of the trail, the Renjo La Pass (5,360 meters or 17,560 feet), trekkers are treated to panoramic views of Mount Everest and other peaks. The trail then leads to the ancient trade route between Nepal and Tibet in Thame valley, making it a beautiful round trip to Namche Bazaar. Along the way, trekkers will also have the opportunity to immerse themselves in the local culture and tradition of the Sherpa community, and observe various flora and fauna, including rare wildlife.
The Gokyo Lake-Renjo La Pass trek starts from Lukla and takes you through the UNESCO World Heritage Site, Sagarmatha National Park, and the Sherpa capital, Namche Bazaar, before reaching the final destination of Gokyo Ri (5,357 meters or 17,575 feet) for the best panoramic view of Mount Everest and several other mountains, as well as the Gokyo Lakes and Ngozumba Glacier.
While the trek does not require a high level of physical fitness or prior trekking experience, it is important to be well-acclimatized and well-equipped. The trip can typically be completed in 13 days and depends on the pace of the trekker.
It is recommended to visit the Gokyo area in early September or November in the autumn season, or in May in the spring season, as the trek leads through glaciers, moraines, and snow-covered lands during
Trip Highlights
Gokyo Lakes: The trek takes you to the high altitude Gokyo Lakes, a chain of turquoise-blue glacial lakes located at the base of Cho Oyu, one of the world's highest peaks. The views of the lakes and surrounding peaks from Gokyo Ri are truly breathtaking.
Renjo La Pass: The Renjo La Pass (5345m) is a challenging but rewarding high mountain pass that offers panoramic views of the surrounding peaks and valleys. The pass is less crowded than some of the other high passes in the region, making it a great option for those looking for a quieter trekking experience.
Ngozumpa Glacier: The Ngozumpa Glacier, the largest glacier in the Nepal Himalayas, is another highlight of the trek. You will get up close to the glacier and see its impressive size and power.
Sherpa culture: As with any trek in the Solu-Khumbu region, the Gokyo Fifth Lake and Renjo La Pass Trek provides the opportunity to experience the unique culture of the Sherpa people. You will pass through traditional Sherpa villages and have the chance to observe their daily life and learn about their rich culture and history.
Scenic diversity: The trek offers a diverse range of landscapes, from lush forests to barren high-altitude terrain, and includes glaciers, moraines, and snow-capped peaks. You will also see rhododendron and juniper forests, glacial lakes, and rolling hills.
Outlined Itinerary
Day 01: Arrival in TIA of Kathmandu 1,350 m, (4,429 ft), transfer to hotel.
Day 02: Drive to Ramechhap airport to take off Lukla & trek begins to Phakding 2,610m, (8,563 ft) 2. 5hrs.
Day 03: Trek from Phakding to Namche Bazaar 3,440 m, (11,286 ft), 5hrs.
Day 04: Hike to Everest view Hotel 3,870 m, (12,697 ft), for the panoramic view.
Day 05: Trek from Namche to Phortse Thanga 3,680 m, (12,073 ft), 5 hrs.
Day 06: Trek from Phortse Thanga to Machhermo 4,470 m, (14,665 ft), 7hrs.
Day 07: Trek from Maccherma to Gokyo Lake 4,790m (15,715 ft), 4hrs.
Day 08: Hike to Gokyo Ri 5,380 m, (17,650 ft), for the best panoramic view.
Day 09: Trek over the Renjo La pass, 5,360 m, (17,585 ft), and Lungde, 8hrs.
Day 10: Trek from Lungde to Namche Bazaar 3,440 m, (11,280 ft), 7hrs.
Day 11: Trek back to Lukla 2,860 m, (9,175 ft), 7-8 hrs.
Day 12: Fly to Ramechhap airport and drive to Kathmandu 1,350 m, (4,429 ft), the hotel.
Day 13: Valley sightseeing world heritage sites.
Day 14: Finally, departure.
Detailed Itinerary
Day 01: Arrival in Kathmandu Airport 1,350 meters (4,429 ft), transfers to hotel.
Representatives from Himalayan Diamond Adventures will greet you upon your arrival at Tribhuvan International Airport in Kathmandu. You will be welcomed with a fresh flower garland, a traditional Nepali greeting, and then escorted to the hotel for bed and breakfast service. The drive from the airport to the hotel takes approximately 15 to 20 minutes, if there is no traffic jam on our way. After checking into the hotel, we will have a short refreshment meeting at the hotel. In the evening, the company will host a welcome dinner at a traditional Nepali restaurant, complete with a cultural dance performance, to celebrate the start of your trip. During the dinner, your guide will provide a brief overview of the schedule for the following day.
Accommodation: 3 to 5 Stars standard of hotel .
Transportation: Tourist bus or car.
Meals: Welcome Dinner, Breakfast, and includes drinks.
Day 02: Fly to Lukla 2,840m (9,317 ft), trek begins to Phakding 2,610m (8,563 ft), 2. 3hrs.
Tomorrow morning, we will depart from Ramechhap airport with an early flight, so we will have to leave from the hotel in Kathmandu very early. The drive to Ramechhap airport will take approximately 5 to 6 hours, covering a distance of 135 kilometers.From Ramechhap airport, we will take a short but thrilling flight to Lukla Hillary airport, known for its high altitude of 2,860 meters and its short and narrow runway. After a short break in Lukla for final trip preparations, we will embark on our journey to Phakding. The trek will take us along a straightforward path, passing through beautiful Sherpa lands and religious sites with breathtaking landscapes. After 2 and a half to 4 hours of comfortable trekking, covering a distance of 7.5 km (4.6 miles), we will reach Phakding at an altitude of 2,610m (8,563 ft).
Maximum Elevation: 2,860m (9,383 ft).
Trekking hours: 2.5 hrs, 200m descent, 50m ascent.
Accommodation: Lodge.
Meals: Lunch, Dinner, Breakfast with hot drinks.
Day 03: Trek to Namche Bazar 3,440 meters (11,286 ft), 5-6 hours.
We will continue our mountain journey, following the Dudh Koshi River. The trail will lead us to Sagarmatha National Park through the Dudh Koshi River valley, passing many beautiful villages, restaurants, and guesthouses, as well as cultivated farm lands, waterfalls, and well-constructed suspension bridges over the Dudh Koshi River. As we trek through the village of Banker, we will have a spectacular view of Kusum Kanguru (6,369 m) and Thamserku (6,623 meters). After 2 to 3 hours of slightly uphill trekking, we will reach Sagarmatha National Park, where we will need to present our permits and enter it. Today, we should have an early hot lunch before leaving the last settlement of Jorsalle. After leaving Jorsalle, there are no places to eat hot meals until we reach Namche Bazar. From Jorsalle, our trail continues straight ahead to the confluence of the Dudh Koshi and Bhote Koshi rivers, following the Dudh Koshi River, before starting the strenuous uphill trail, we will cross the famous Hillary Bridge, the highest bridge in the EBC trail over the Dudh Koshi River. We will trek for about 5 to 7 hours, covering a distance of 12.5 kilometers, with stunning landscapes throughout the journey from Phakding.
Elevation: 3,440 meters (11,286 ft).
Trekking hours: 5 hours, 10,00m ascent, 100m descent.
Accommodation: Lodge the attached bathroom.
Meals: B, L, D with hot drinks.
Day 04: Hike to Everest view Hotel 3,870m (12,697 ft), for panorama view.
Today is a rest day for us, it's very important to take a rest day after rapidly ascending a mountain. Even though we don't take a rest, we will hike to the Everest View Point (3,867m or 12,687ft) for the best panoramic view of Mount Everest and other beautiful mountain views. If we have time, we will visit Khumjung village, the legendary Yeti Scalp Monastery, and the Mountain Museum in Namche Bazaar.
Overnight stay at a lodge in Namche Bazar.
Maximum elevation: 3,870m (12,697 ft).
Visit: Khumjung village and Hillary school.
Accommodation: Lodge.
Meals: Breakfast, Lunch, Dinner with hot drinks.
Day 05: Trek to Phortse Thanga 3,680m (12,073 ft), 4 - 5 hours.
After a delicious and warm breakfast, we will check out of the lodge in Namche Bazar and head to Phortse Thanga. The initial trekking trail is similar to a highway, making the trek relatively easy. We will trek for approximately 2 hours along the Everest Base Camp trail before separating onto a path that climbs steeply uphill to Mongla Danda (3,900 meters or 12,795 ft) with breathtaking mountain views in every direction. This trail is not only tough, but also serene and picturesque. Mongla Danda offers a breathtaking view and is one of the region's best viewpoints. We will take a short break for a hot lunch and rest before continuing on to Phortse Thenga, a ravine valley located on the bank of the Dudh Khola, where we will spend the night.
Maximum elevation: 3,680 meters (12,073 ft).
Trekking duration: 4hrs, ascent 530m, descent 290m.
Accommodation: Lodge.
Meals: Breakfast, Lunch, Dinner with hot drinks.
Day 06: From Phortse Thanga trek to Machhermo 4,470m (14,665 ft), 7 hours.
Today we will undertake a challenging trek, covering 7 hours to reach Macchermo, situated at an altitude of 4,470 meters. Our journey starts with a steep climb to reach Dole village, where we will encounter lush green forests of blue pine, rhododendron, and birch, especially in blooming seasons. After about 3 hours of trekking, we will arrive at Dole and the trail will become easier. As we continue, we will hike uphill to reach the Sherpa village of Laphorma. The trek will take us through hillside tundra, dotted with scattered scrub junipers, and even some barren pastures. Along the way to Macchermo, we will be treated to several mountain views, but the highlight will be the majestic Mount Cholatse.
Maximum elevation: 4,470 meters (14,665 ft:
Trekking duration: 6 hours, ascent 730m.
Accommodation: Lodge.
Meals: Breakfast, Lunch, Dinner with hot drinks.
Day 07: Trek to Gokyo Lake 4,790m (15,715 ft), 4 hours.
From Machhermo, we will climb a ridge to reach the stunning Gokyo Lakes. The beauty of the Gokyo Lakes cannot be adequately described, with their turquoise waters and captivating reflections of the surrounding mountains. It will take us about 4 hours to reach the lakes, trekking on a slightly uphill trail that consists of moraines and rock cairns. During the trek, we will have the opportunity to admire the view of Mount Cholatse (6,335 m), North Cho Oyu (8,201 m), the Ngozumpa Glacier, and much more.
The view of the Gokyo Lakes, with their snow-covered mountains as a backdrop, is another highlight of the day. You will find many lodges along the bank of the third lake, where we will stay overnight. The seventh day of your trip promises to be one of the most memorable experiences of a lifetime.
Maximum elevation: 4,790 meters (15,715 ft).
Trekking duration: 4 hours, ascent 350m.
Accommodation: Lodge.
Meals: Breakfast, Lunch, Dinner with hot drinks.
Day 08: Hike to Gokyo Ri 5,380 m, (17,650 ft), the best viewpoint.
Today, our objective is to witness the breathtaking sunset views from Gokyo Ri, which is considered one of the best panoramic viewpoints in the region. The added bonus of the sunset view makes it an even more worthwhile sightseeing spot. We will trek approximately 2 hours from our lodge at Gokyo Lakes to reach the top of Gokyo Ri (5,380 m). From the summit, we will be able to see clear views of over 4 of the world's 8,000-meter peaks, including Mount Cho Oyu (8,201 meters, 26,906 ft), Mount Everest (8,848 meters, 29,029 ft), Mount Lhotse (8,516 meters, 27,939 ft), and Mount Makalu (8,463 meters, 27,765 ft). In addition to these majestic peaks, the views from Gokyo Ri are unparalleled, offering an incomparable panorama of the Gokyo Lakes and Ngozumpa glacier
Trekking hours: 3 hours, 570m ascent, 570 descent.
Accommodation: Lodge.
Meals: Breakfast, Lunch, Dinner with hot drinks.
Day 09: Gokyo - Renjo La 5,360m (17,585 ft), Lungden or Thame, 8-9 hrs.
A 4-hour climb up a challenging trail will take you to the summit of the picturesque Renjo La Pass from Gokyo Lake. The climb is tough, but the views of Everest, Lhotse, and Makalu are breathtaking. After crossing the pass, you'll descend a stone staircase, trek along the south bank of Angladumba Tsho lake, and follow an ancient Nepal and Tibet trading route to Thame. Although there's accommodation in Lungde, Thame offers better food and lodging options, so we'll head there.
Maximum elevation: 5,360 meters (17,585 ft).
Trekking hour: 8 hours, ascent 550m, descent 1520m.
Accommodation: Lodge.
Meals: Breakfast, Lunch, Dinner with hot drinks.
Day 10: Trek to Namche Bazaar 3,440m (11,280 ft), 8 to 9 hours.
We'll trek for approximately 2.5 hours from Thame to reach Namche Bazar. On the way, we'll stop at the Thame monastery. As we move away from the mountains, the green rhododendron forest will return to offer a lush and verdant backdrop for our trek.
Maximum elevation: 3,440 meters (11,280 ft).
Trekking duration: 2.5 hours.
Accommodation: Attached bathroom.
Meals: Breakfast, Lunch, Dinner with hot drinks.
Day 11: Namche Bazaar - Lukla 2,860m (9,175 ft), 7-8 hrs.
We will trek back to where it all started; Lukla. This will take around 8 hours of trekking, We will be descending, for the most part, today while also trekking in gradual rise at times. We will pass the confluence of Dudh Koshi River and Bhote Koshi river. In Lukla, we will have a dinner party, celebrating the successful completion of our trip.
Elevation: 2,860 meters (9,383 ft).
Trekking hours: 8 hours, 960m descent, 250m ascent.
Accommodation: Lodge.
Meals: Breakfast/ Lunch/ Dinner with hot drinks.
Day 12: Fly to Ramechhap airport and drive back to Kathmandu hotel 1,350m (4,429 ft).
After an unforgettable journey, we'll fly to Ramechhap and drive back to Kathmandu. To celebrate the trip, we'll have a farewell dinner in this evening at a Nepali cultural restaurant, complete with traditional dance
Day 13: Contingency days.
This day is reserved to make up for our routine if we are lagging behind because of unfavourable weather, flight delay etc. We will continue our trek if we are right on schedule.
Day 14 Valley sightseeing.
We'll tour UNESCO World Heritage sites in the Kathmandu Valley, including Pashupatinath, Swayambhunath, Patan Durbar Square, and Boudhanath. Pashupatinath and Swayambhunath are religious shrines revered by Hindus and Buddhists. Boudhanath also showcases the religious and cultural diversity of Nepal. Additionally, we'll visit Bhaktapur Durbar Square and Patan Durbar Square, two royal palaces with historical significance and monuments.
Return back to the hotel and overnight stay.
Transportation: Tourist Bus.
Permits: Entry Permits of Patan, Bhaktapur, and Kathmandu.
Accommodation: 3 Stars standard of hotel.
Meals: Farewell Dinner and Breakfast.
Day 15: Finally, departure.
We'll drop you off at Tribhuvan International airport and say goodbye as you head home
Note: that the outlined itinerary is designed for those who prefer a full package service. However, we understand that preferences and time constraints may vary, so we offer the flexibility to customize the itinerary according to your needs. The selection of itineraries and staff will be based on your specific requirements and budget. Additionally, we have options available for partial visits to accommodate your preferences and financial situation.
Cost Details
What's included
1. Private vehicle for airport pickup and drop-off according to your itinerary.
2. A three-night stay in deluxe accommodation at Hotel Moonlight or Kathmandu Guest House in Thamel, Kathmandu, including breakfast as part of the package.
3. Private car transportation from Kathmandu to Ramechhap airport and back.
4. Flight fares for Ramechhap/Lukla/Ramechhap, including 15kg of luggage cargo.
5. A daily menu of your choice, providing three meals a day (breakfast, lunch, and dinner), along with fresh fruits. Hot drinks such as tea, coffee, ginger lemon tea, ginger lemon honey, hot chocolate, milk tea, milk coffee, and hot water are also available during the trip.
6. Comfortable teahouse accommodations during the trek, with private Western toilets in Lukla, Namche, Dingboche and Pheriche.
7. Inclusion of entry permits: Sagarmatha National Park fee and Pasang Lhamu Municipality fee.
8. Private car transportation for domestic and international airport transfers.
9. A one-day valley sightseeing tour including Pashupatinath, Boudhanath, and Swayambhunath, with all temple entry fees covered. A city guide and transportation are also provided.
10. An experienced, knowledgeable, and friendly English-speaking guide with a government license, including all expenses for salary, food, drinks, accommodation, transport, and insurance.
11. Assistance guide service, depending on the group size and requirements.
12. One strong and helpful porter assigned to every two members, equipped with proper gear including a Gore-Tex jacket/trousers, trekking shoes, woolen hat, woolen gloves, woolen socks, sunglasses, etc.
13. Insurance coverage for Nepalese staff, including emergency rescue evacuation by helicopter, hospitalization, medical treatment, and accidents.
14. Availability of medical supplies, including a first aid kit. Oximeter readings of pulse, oxygen saturation, and heart rate taken twice daily to monitor Altitude Mountain Sickness (AMS) symptoms.
15. Arrangement of Emergency Helicopter service, with the cost covered by your Travel Insurance company.
16. Complimentary items from the company: a duffle bag, map, and company T- shirt.
17. Hot bag services.
18. Inclusion of government taxes and official expenses.
19. Entry fees for UNESCO heritage sites.
20. Rental services available for down-filled jackets, sleeping bags, mini crampons, and trekking poles. A fee of $5 per day for laundry service and maintenance.
21. Welcome dinner and farewell dinner at Nepali cultural restaurants.
What's not included
❖ Personal trekking equipment and gears.
❖ Nepal entry visa fee.
❖ International airfare bill.
❖ Extra night accommodation in Kathmandu because of early arrival, late departure, early return from mountain (due to any reason) than the
❖ Meals while you stay in Kathmandu Hotel Lunch and Dinner.
❖ Your travel insurance policy should be covered rescue evacuation, medical treatment and accidental.
❖ Any entry fee for the temple or monastery.
❖ Donations or charity.
❖ Your personal expenses like; Hot shower, Laundry, Battery charging, telephone, WIFI, and shopping, etc.
❖ Alcoholic and non-alcoholic alcoholic hot and cold drinks.
❖ Tips for the guide, porter, and driver (tipping is expected)
Map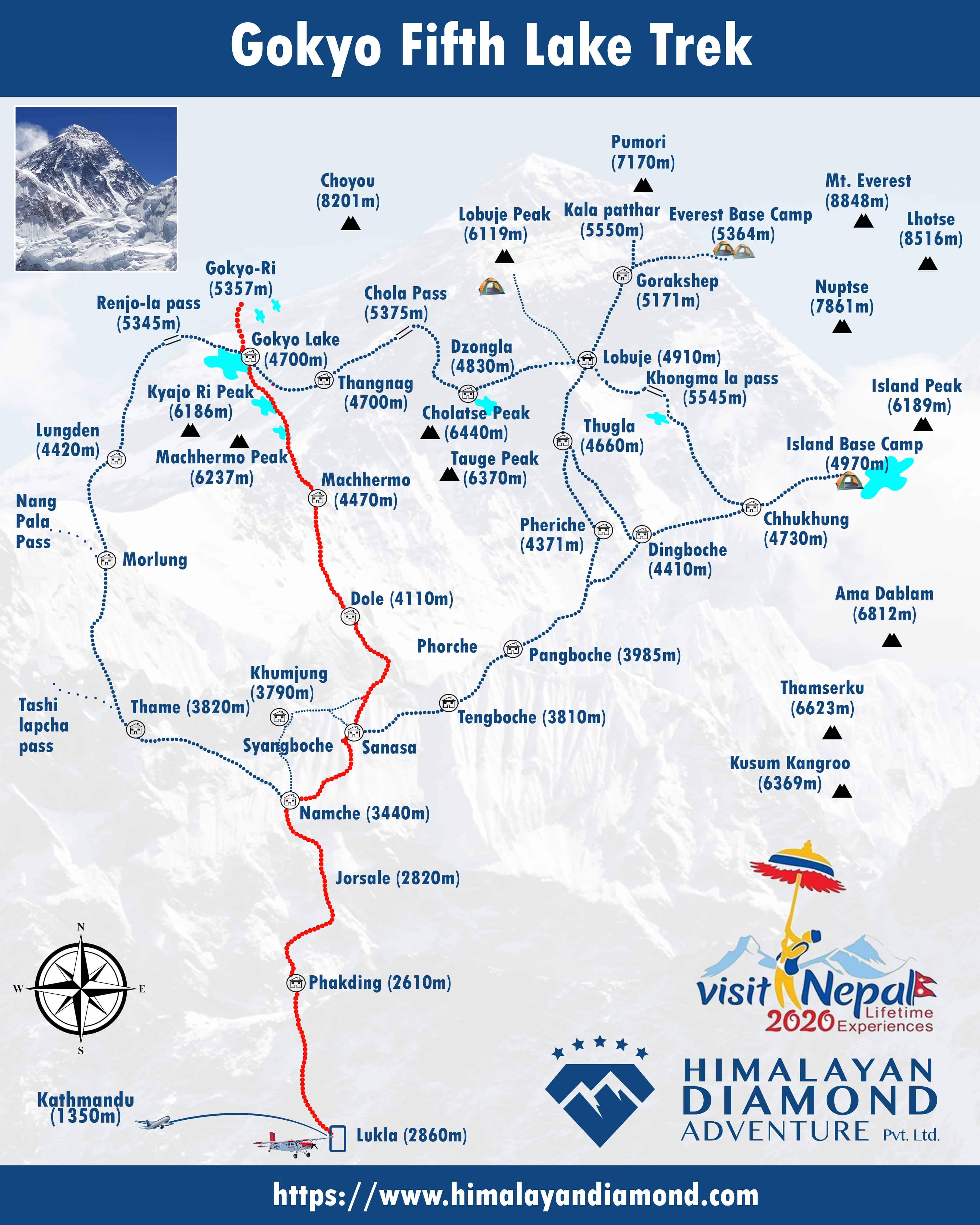 Useful Info
What Essential Documents Do I Need To Bring With Me On Tour?
When going on a tour, it's important to bring essential documents to ensure a smooth and hassle-free trip. Here are some documents that we highly recommend you bring with you.
Passport: If you're traveling to a foreign country, you'll need a valid passport. Make sure to check the expiration date and renew it if necessary.
Visa: Depending on your destination, you may need a visa to enter the country. Check with the embassy or consulate of the country you're visiting to see if you need a visa.
Travel itinerary: It's always a good idea to have a printed copy of your travel itinerary, including flight and hotel reservations, tour bookings, and any other important travel plans.
Travel insurance: Consider purchasing travel insurance to protect yourself against unforeseen events, such as trip cancellations, medical emergencies, and lost or stolen luggage.
Health documents: If you're traveling to a country with specific health requirements, such as a yellow fever vaccination, make sure to bring the necessary health documents.
Driver's license: If you plan on driving while on tour, make sure to bring your driver's license.
Credit cards and cash: Bring enough cash and credit cards to cover your expenses while on tour.
Emergency contact information: Write down the contact information for someone you trust in case of an emergency. This could include a family member, friend, or employer.
It's always a good idea to make copies of all your important documents and keep them in a safe place in case the originals get lost or stolen. Additionally, you may want to consider using a travel document organizer to keep all your important documents organized and easily accessible.
If you are traveling to Nepal, then here are some essential documents you will need to have with you in order to ensure a smooth and hassle-free trip.
What Essential Documents Do I Need To Bring With Me For Gokyo Lakre-Renjo La Pass Tripr?
❖ Valid passport with at least 6 months validity and at least 2 blank visa pages
❖ Travel insurance policy document
❖ Photocopies of your passport's personal information page
❖ One or more recent passport-sized photos with a white background (1.5 inch x 1.5 inch)
❖ Completed and signed Nepal visa application form
❖ Proof of accommodation in Nepal (such as a hotel reservation or address)
❖ Valid return flight or travel ticket
❖ Proof of sufficient financial means, such as recent bank statements
❖ Mastercard, Visa, and some cash in USD
❖ Proof of payment of the Nepal visa fee
❖ To obtain a visa for Nepal, your passport must be valid for at least 6 months from the travel date and you must present either a completed COVID-19 vaccination certificate with QR code or a valid PCR test negative result taken within 72 hours prior to boarding.
How to apply for an online tourist visa to Nepal?
Visit the official website of the Department of Immigration of Nepal at https://www.immigration.gov.np/page/tourist-visa
1. Fill out the online application form with your personal information, including your name, date of birth, nationality, passport number, and intended travel dates.
2. Upload a recent passport-size photograph in JPEG or PNG format.
3. Pay the visa fee online using a credit card or debit card. The cost of the visa depends on the length of your stay in Nepal, but it typically ranges from $30 to $125.
4. Once you have submitted your application and payment, you will receive a confirmation email with a receipt and an application ID.
5. After your application has been processed, you will receive another email with a link to download your visa. You should print out the visa and carry it with you when you travel to Nepal. It's important to note that the online tourist visa is valid for multiple entries and is valid for 15, 30, or 90 days, depending on your length of stay. Also, be sure to apply for your visa well in advance of your travel date to allow time for processing.
What Type Of Insurance Should I Get?
It is essential for foreign travelers to secure insurance coverage while trekking or climbing in Nepal. Although trekking in Nepal is generally safe, travel insurance is compulsory for mountaineering activities in Nepal. The trip can pose physical challenges and hazards, particularly at high altitudes where altitude sickness is prevalent among trekkers and climbers, especially those who have not acclimatized properly. Physical injuries can also occur on mountain trails or during climbing activities, and in emergency situations, foreign trekkers or climbers may need to be rescued by helicopter and transported to hospitals in Kathmandu, which can be costly if the traveler does not have insurance coverage.
We strongly recommend purchasing a travel insurance package that covers high altitudes up to 5,500 meters, potential medical issues, natural disasters, personal accidents, emergency helicopter evacuation, loss or damage of personal belongings, and trip cancellations. The minimum recommended coverage amount is USD 100,000. There are many insurance companies that offer travel insurance services online. You should compare plans to find the one that best meets your needs.
What Are Some Popular And Highly Rated Travel Insurance Companies?
If you are in search of popular and highly-rated travel insurance companies, then we can recommend some based on positive feedback we have received from our previous travelers. It is here. [Company 1], [Company 2], [Company 3]............................
For Travelers from USA and CANADA........................
Online Global Health Insurance
Travelex
Insure My Trip.com (Online Insurance Aggregator)
Mondial Assistance
Access America
HCC Medical Insurance Services
Good Neighbor Insurance (International Health)
International Health
Insuremytrip dot com
MultiNational Underwriters
TIC Travel Insurance Coordinators Ltd
Travel Assist
TraveLite
For Travelers from England...................................
Specialty Group (UK) Limited
FirstAssist Services Limited
Harrison Beaumont
Buy cheap travel insurance
For Travellers from EUROPE and SLOVENIA...........................
Assistance CORIS
For Travellers from AUSTRALIA and NEW ZEALAND
Cover More Travel Insurance
CGU Insurance Limited
For Travellers from SOUTH AFRICA........................................
Travel insurance Consultants Pty. Ltd.
Weather Conditions & Temperature in Nepal
As Nepal's topography is divided into three geographical regions - Terai, Hills, and Mountains - each region experiences different temperatures during different seasons. Below is a tabular illustration of temperature changes throughout the different seasons in Nepal, which will allow you to better understand the changing weather conditions.
Seasons Minimum temperature (approx) Maximum temperature (approx) Weather Condition
Spring 4°C/ 39°F (Mountain) 20°C/ 68°F (Mountain) Moderate with occasional rain
Summer 12°C/ 53°F (Mountain) 25°C/ 77°F (Mountain) Extreme high with heavy rain
Autumn 3°C/ 37°F (Mountain) 18°C/ 64°F (Mountain) Moderate
Winter 10°C/ 50°F (Terai) -4°C/ 24°F (Mt.) 20°C/ 68°F (Terai) to 12°C/ 53°F (Mountain) Extreme low
What Is The Best Time To Trek In Nepal?
After a thorough analysis of all the seasons, it has been suggested that autumn is the best time of the year to trek in Nepal. The mild temperatures from September to November make the trekking experience more enjoyable. During this time of the year, trekking routes throughout the country are jam-packed with travelers from all around the world.
However, as mid-December is generally the holiday season in most countries, including the United States, there is a spike in the number of international tourists during early winter as well. Interestingly, to make the holiday season even more special, travel companies offer some of the best holiday destination packages during this time. So, be sure to take advantage of the best travel opportunities with the assistance of Himalayan Diamond Adventure.
Nonetheless, if you cannot make it in autumn, spring also allows for favorable conditions for trekking in Nepal. The warmer days and nights, lush plants and vegetation, and clear trekking trails during spring make the trek worthwhile. However, the downside is occasional rain and slightly higher temperatures in the lower elevations. All in all, after autumn, spring is the second-best time to trek in Nepal.
Best time to trek in Nepal:
Thousands of tourists visit Nepal every year to enjoy the picturesque nature and trek through the adventurous and diverse terrain. However, the best times to trek in Nepal are autumn (September to November) and spring (March to May). During these seasons, travelers are blessed with moderate temperatures and enjoyable weather conditions throughout the country.
As calm as it may seem, the challenging terrains of the Himalayas in Nepal can present trekkers with gruesome scenarios during harsh weather conditions. To avoid any unforeseen situations and to enjoy nature at its best, most trekkers prefer autumn for backpacking. However, it may not be the best time of the year to trek in Nepal for everyone. Some may prefer off-season trekking to avoid the crowds. Therefore, exploring the various seasons can help you choose a favorable time for trekking in Nepal based on your preferences.
Trekking Seasons in Nepal
Throughout the year, the landscape of Nepal experiences four seasons, each with its own uniqueness that brings significant changes to the natural environment. Below are some detailed insights into the four seasons in Nepal.
1. Spring Season (March-May)
Spring in Nepal lasts from March to May and is one of the preferred seasons for trekking throughout the country. During this time, the climate is moderate, with slightly higher temperatures reaching up to about 32°C (89°F) in the lower elevation regions and around 20°C (68°F) at higher altitudes. The sky is usually clear with mild days and occasional rain.
Spring brings a rejuvenation of nature. Flowers begin to blossom, trees become lusher with newly sprung leaves, and spring vegetation sprouts again. Likewise, the flora and fauna of the Himalayan terrain also resuscitate from the harsh winter. Overall, spring is considered a great time for trekking in Nepal due to the alluring freshness of nature.
2. Summer Season (June-August)
With the end of May, summer starts in Nepal and lasts from June to August, which is also the monsoon season in the country. During these months, the weather can be harsh, with scorching heat and heavy rain throughout the nation. The rising humidity and extreme hot weather conditions may restrict travelers from fully enjoying their trip.
Although the lower elevation regions experience harsh summers, the Himalayan terrains are not as brutal. In the mountain regions, temperatures can range from approximately 25°C to 12°C (77°F to 53°F). However, heavy rains can make trekking through rocky mountain terrain challenging, and the cloudy sky may obscure mountain views.
3. Autumn Season (September-November)
With the arrival of autumn from September to November, Nepal becomes a popular destination for trekking. During this season, the weather is usually pleasant with clear skies, moderate temperatures, and gentle sunshine throughout the day. However, early autumn may bring occasional light rainfall. As the season progresses into October and November, the monsoon season completely ends, and cooler weather conditions prevail.
Many people choose to trek to popular destinations such as Everest Base Camp, Annapurna Base Camp, and Poon Hill during this season. Additionally, autumn is festival season in Nepal, and visitors can witness major celebrations such as Dashain and Tihar, which provide an opportunity to experience Nepali culture and traditions. Many travel packages are available for the best treks in Nepal during this season, and our travel experts can help you plan your trip to align with the festival season.
4. Winter Season (December-February)
Winter, which lasts from December to February, is the harshest season for trekking in Nepal. As the temperature drops in December, nights become chilly, and temperatures can reach around 9°C (48°F) during the day and below 0°C (32°F) during the night in higher altitudes. During peak winter, many high passes and trekking routes in the mountains are covered with dense fog and snow, increasing the risk of unexpected accidents.
Because of the risks of unpleasant trekking conditions, most travelers avoid trekking in the Himalayan terrains during the winter season. Additionally, most expeditions and mountain climbing, including trekking in the Everest region, also come to a halt during the harsh winter. Overall, it may not be the best time to trek due to the challenges presented by the weather conditions.