Very comfortable Trek with Guide Chandra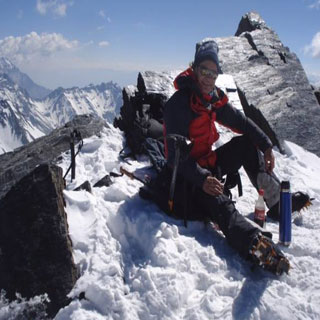 Armin Rüedlinger, Switzerland
Very comfortable Trek with Guide Chandra
One year ago when I went around Dhaulagiri and climbed Dhampus Peak, the travel agency assigned Chandra as my guide. Right from the beginning, we understood each other perfectly and we became friends immediately. Chandra is a very caring person, who did everything to make my expedition successful but also managed the porters and the cook very effectively. I was able to fully trust him in all the situations we faced because his decisions were always right and to the best of the team and me.
This year I planned to climb Mera Peak, to go over the Ambulance La and then climb Lobuche Peak to conclude the expedition. For me, it was always clear I can do such a "heavy tour" with Chandra only and booked him well in advance. And again because of Chandra's experience, his knowledge and his dedication the expedition was a real success, despite the difficulties we had to face. So could the bad weather at the beginning, because of delayed monsoon, not stop us. Neither the poor porter who got sick. The way Chandra solved this problem was simply impressive. With his overview, his strength and his fitness he just saved the life of our unlucky porter. I am so glad this turned out that way.
Through Chandra, I am now able to understand a lot more about Nepal, its people and their culture. This because of his openness I experienced in many discussions we had together and the mail contact we kept between the two expeditions. I think he is a very well-known and accepted guide in Nepal. This was visible when he met many of his friends along the way and how positively they always reacted to see him.
If I will stay healthy and fit (I am already 70 years old) I certainly like to go to Nepal again to explore other regions. I would do this only with Chandra as my guide. If you look for an extremely serious, reliable and experienced guide, with good humour, I only can recommend Chandra.