Bilssfull Treeking in beautiful Nepal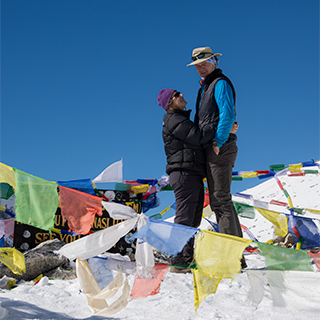 Ingmar A, Germany
Bilssfull Treeking in beautiful Nepal
Over the last 20 years I made over ten trips to Nepal for trekking, the last three of them I organized through Chandra and his company Himalayan Diamond Adventures. So this speaks for itself (Manaslu-Tsum in 21, 3-passes trek in 2018, Mera Peak in 2016).
What makes him special ist the combination of great mountain knowledge, outstanding logistical skills and great consistent communication. Rarely you will find these three things combined on this level. And for a joyfull trekking you will need all three, because you want to be safe, be able to react to unexpected issues (there is always one in every mountain trip) and complete your trip.
There are way more highlights and delights in the way Chandra works, but I leave it to anyone to find this out for themselves.
With all my experience I can say that I will always choose Chandra as a guide for trekking and mountaineering in Nepal.