Manaslu Trekking and Larke Peak climbing expedition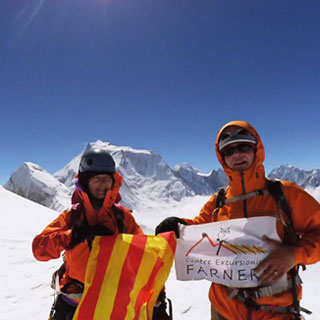 Ricard Moran. Barcelona, Spain
Manaslu Trekking and Larke Peak climbing expedition
Our adventure during the Manaslu trekking and peak climbing held on October 2017 was really a nice and exiting experience, all the team did a great job organizing every small detail making easy our trip and as comfortable and safe as it was possible.
Our Sirdar Chandra was also organizing the transport and the logistics of the trek and Base Camp equipment, the food and climbing gears to erect our camp close to the in the Larke La. It was ready for us on time at our arrival after 10 days of trekking and acclimation. The base camp was installed at [5,050 meters/ 16,568ft] of altitude in the Larke glacier, a very beautiful place with all the comfort facilities that you can expect at this altitude.
The climbing team led by Chandra and Vinayak were working hard to open the route installing the equipment to climb the Larke peak, and fixing the ropes to help us the climbing two days later. The staff installed the high camp at [5,050 meters/ 16,568ft] of altitude while Chandra and Vinayak were working to fix the rest of the ropes until the end of the last corridor crossing the cornices.
Finally, we attempt the last part of the climbing to access the Larke Peak. We found a very bad snow conditions that makes the progress very slow and tiring. Again the hard work done by Chandra and Vinayak opening the track on the deep snow were crucial to succeed after 8 hour of ascent.
Again we want to thank the very professional work of our guides, assistants, porters, cookers, drivers that were crucial for the success of our expedition.